New Napa Artist: Illustrator & pattern designer Laura Kunnas!
New talent in our agency roster! Nothing brightens up a day more than getting to know a new talent and seeing some marvellous designs! We're super happy to introduce to you the newest member of our perfect gang of artists: pattern designer & illustrator Laura Kunnas! Moon over Laura's portfolio here & read our interview below to get to know her a litle bit better!
Laura Kunnas (b.1987) is a Stockholm-based print designer and illustrator. She graduated from the Aalto Universyty in 2017. Her main study was fashion and textile design. She's been working as a junior print designer at H&M and besides that she's done illustrations as a freelancer. As a varsatile illustrator she can master a good variety of techniques but her most typical tools are felt tip pen, acrylic paints, water color and computer programmes. The characteristics of her works are imposing and expressive subjects, friskiness, twisted sense of humour, animals and flowers, abudance of details and the spectrum of colours. Especially cats inspire her! Storytelling is definitely the soul of Laura's work. Her rich patterns have been seen in several Moomin prints for Martinex. Besides her print designer job she's also been creating book covers.

Hi Laura! Tell us about your background. When was the first time you experienced the spark for illustrating?
Drawing pictures has been interesting to me since I was a little girl. Designing clothes took over for a little while when I started studying fashion design. In the master studies I ended up taking textile and print courses, and then I realised that designing prints was my thing! After my studies I've worked as a print designer at H&M. I never got full artistic satisfaction while working there so I started doing other creative projects besides my day job and so working as an illustrator felt like a natural path to follow.
You're currently living in Stockholm. What is the most inspiring place in the city? And tell us more about in what kind of surroundings you usually work?
To me it's the collision of the city and nature that is the most fascinating thing about Stockholm. You can enjoy the city and the nature at the same time. There are some really nice gardens in Stockholm that I like to visit once in a while. Ulriksdals slottstädgård and Rosendal are nice ones and there you can buy locally grown flowers and vegetables.
The most inspiring place for me is my own home. I live 20 km away from Stockholm city centre in a small cottage by the lake, next to a conservation area. I love watching sunsets and maybe drink a glass of wine or take a refreshing and extremely inspiring nap in my hammock on a cold winter day. When I'm at home it feels that the inspiration is just flooding inside.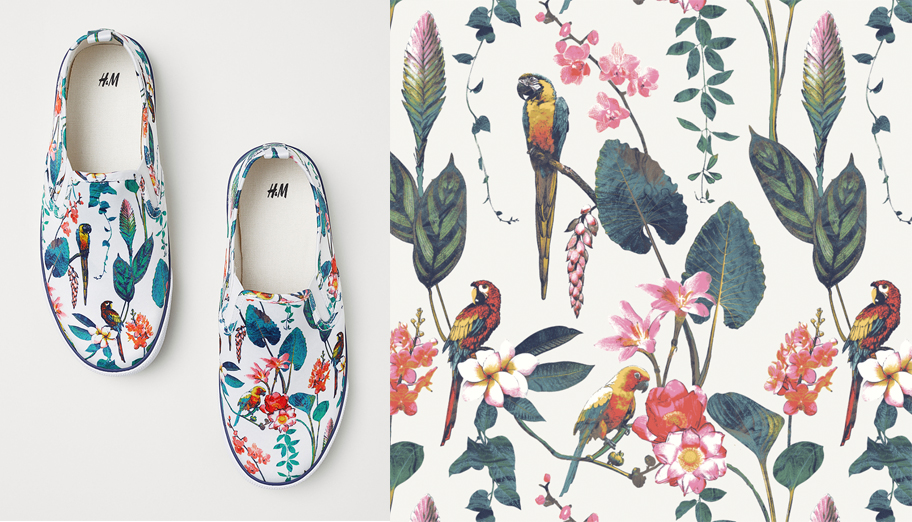 What technique do you use in your illustrations?
I don't have any favourite technique. It changes from time to time and I like trying new things. But maybe most often I grab a pencil, felt pen, watercolours or acrylic colours. Photoshop is unconditional for sketching and finishing my work.
When you receive a commission, what are the steps of your illustration process?
Commission illustration starts by interviewing the customer and getting to know the concept, then I make a few suggestions that may include mood boards, colour charts and rough sketches. The customer will choose their favourite concept and I can start working with the image. I ask comments from the client in different stages of the working process to make the final result as pleasant as possible. Customer satisfaction is always my priority one, but it's also important that I can stand behind my work.
Is the approach or process different from designing a pattern?
Usually I have a small story behind my work that I like to tell in a form of a pattern. For making a print I first collect a lot of images from books and the internet. I compose them together to a repeated collage in Photoshop. I print out the sketch and draw or paint it clear. After the creative part I scan it again and finish it in Photoshop.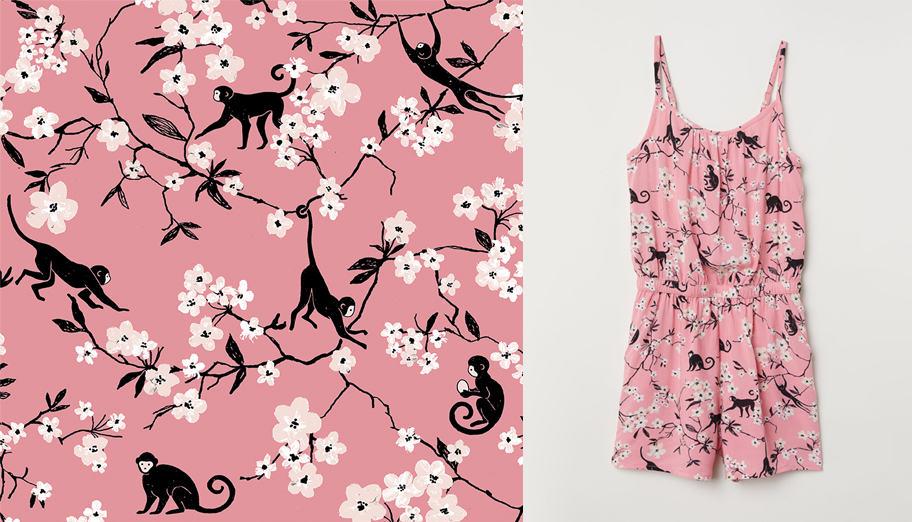 You've worked as a pattern designer for H&M. What is the most fascinating & most challenging things in designer's work?
The most fascinating thing must be when you can see your own designs all over the world. It makes me smile every time I see someone on the street wearing my designs!
The most challenging is when you have to design stars, hearts and unicorns over and over a again in a new way, but so that they are not too different from the previous ones.
Where do you get the inspiration for your ambitious patterns? And how about the ideas for the smart & funny t-shirt placement prints?
I get ideas everywhere! Keeping my senses aware can I find a lot of inspiration and ideas from everyday life. I rarely watch TV or movies, I don't really browse the internet or social media. I feel it liberating not to follow anything – not even the news!
Nature and animals, especially cats inspire me. Those I can easily follow for hours! I also see a lot of colourful dreams where I can pick up ideas and my lively imagination is also a quite useful tool 🙂

Do you have any hobbies? What do you do when you're not drawing?
I do work a lot and often my work and free time merge together. I bustle around all the time and often it is somehow connected to work as well. I like doing crafts; crochet, knitting and making clothes for myself. I love cooking and testing new recipes. My newest hobby is gardening, although my garden is quite dead at the moment. I also like to row, drive my Vespa and go for picnics. During the winter I like shoveling the snow, ice skating and downhill sledding. I also enjoy doing housework – washing up and watching out of the window is my every day favourite.
What has been the most memorable illustration assignment so far? And what would be the dream illustration job?
I must say that my current assignment at Indiska as a home department print consultant has been a lot of fun! I get to do crazy colourful prints for weird products and also my passion for animals and plants is blossoming. Also the Moomin prints I've made as a freelancer for Martinex have been a lot of fun because I'm a huge Moomin fan.
The dream illustration project would be a cat picture book where cats are doing human stuff. I think the book would also be forbidden for kids…
CURRENT TOP 7:
Album: I don't listen to records or even Spotify. I listen to radio but don't even know which channel. I have one CD that I have listened quite a lot in my life: when I was 15 I wished for a Spice Girls CD from Santa but he gave me ZZ Top's Eliminator. That must have efected to young girls developement somehow…


Book: This summer's hit reading was Tove Jansson's Muminpappans memoarer. I'm reading it in Swedish because I'm trying to learn the language at the same time. It kind of hopeless. I'm on a page 2 now.
Superhero: Does Harry Potter count?


Exhibition: Medelhavet museum, in Stockholm. I've visited the mummies of Egypt several times and especially the cat mummies are whispering my name when I walk by.
Movie: Mamma mia, here we go again. I haven´t seen it yet but my little brother said it was good. I have three movies that I can watch time after time; Mamma mia, Chocolat and Secret Garden.
Tv-series: Once I had the Netflix free trial I managed to watch all the seasons of Sons of Anarchy. It was good and that was it. I don't watch TV so I haven't followed series from TV either. I used to watch the Finnish soap opera Salatut Elämät when I still lived at my parents house.
Artist: Hieronymus Bosch
City: Tampere is my birth city and it's always nice to go back for a short visit.
Thank you Laura! So nice to have you in Napa!
Did you fell in love with Laura's illustrations? Book her for your project! Want to see more of her pattern collections? Ask for a link to see her designs by emailing us: info@napa-agency.fi