Pauliina Mäkelä wins the Illustration Diamond 2015!!!
What a start of the week! We're happy to tell you that our dearest Pauliina Mäkelä won the Illustration Diamond 2015 (Kuvitustimantti 2015)!!! This award, which is given by the Finnish Association of Illustrators (Kuvittajat ry), was announced last Sunday 4th of September at the Print Market / Design Market, organized by Helsinki Design Week. CONGRATULATIONS PAULIINA! Here you can see the winning illustration for Suomen Kuvalehti's article, in it's lay out. The client for this illustration was Vesa Tuukkanen from Suomen Kuvalehti magazine.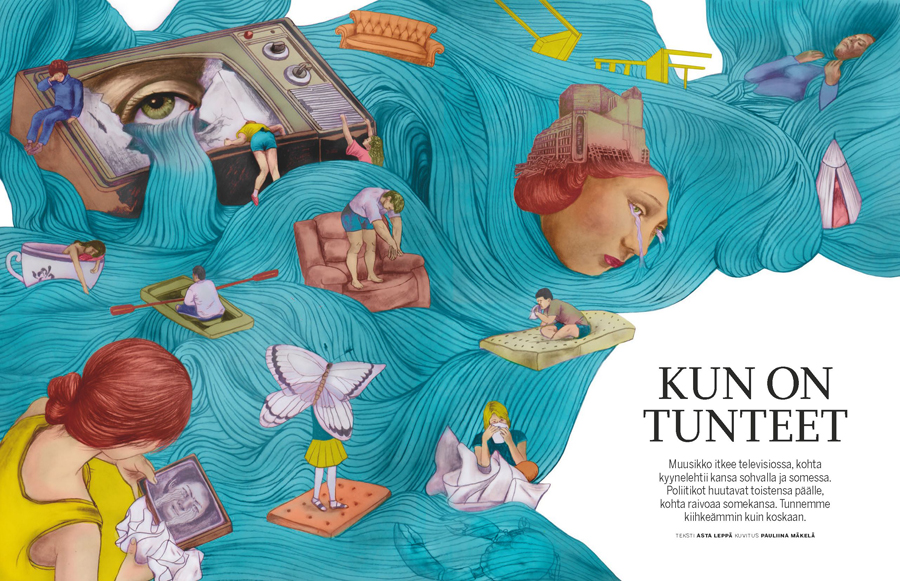 And because there's never too much awesome illustrations, and of course we also want to celebrate Pauliina's unbelievable talent, we want to introduce to you Pauliina's latest work!
These quirky, multilayered editorial illustrations were recently published by the Finnish Broadcasting Company's (YLE) KulttuuriCocktail. There were two articles, both on the fairy tale theme and the real messages behind the stories. Well known characters presented in the new light! Check them out:
Both articles are in Finnish, you can read them both here & here.