Illustrator Hanna Malinen is our new talent 💫✨🌟 Welcome!
Our roster goes up with this awaited artist addition! Illustrator Hanna Malinen joins Napa Agency and we couldn't be happier! This is exactly what our super talented band of illustrators and agency was missing to rise up to the new desired sky high levels. We Welcome you Hanna to join our crew of Napa Artists!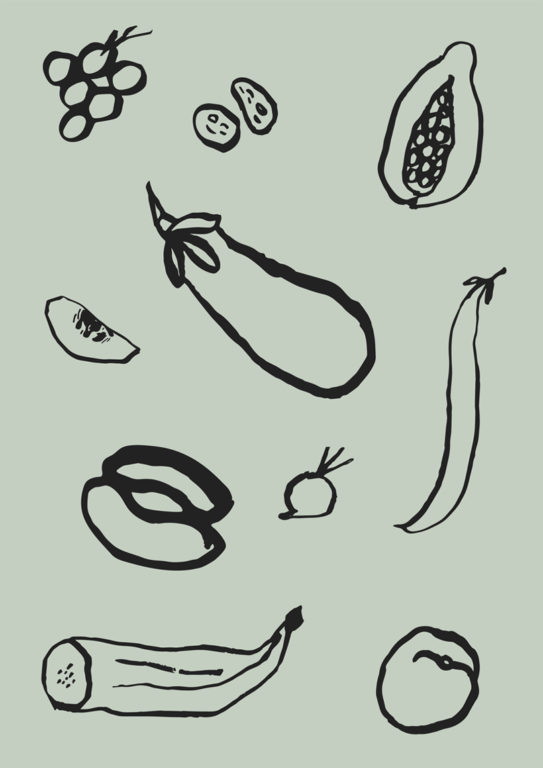 Hanna Malinen is an illustrator, graphic designer & surface designer splitting her time between Helsinki & Berlin. She has graduated from Karelia University of Applied Sciences in both industrial design (2010) and graphic design (2015). During her studies, she began to create illustrations for album covers and working for a daily newspaper where she got fascinated by the possibilities of visual storytelling. After graduating she has worked in creative agencies and as a freelancer covering a wide range of projects from pattern design to editorial illustration, layouts, branding and marketing materials. In her illustrations, Hanna combines minimalistic Nordic style with a thoughtful colour palette and clumsy shapes.
Her work may seem cheerful at first but a closer look can reveal a bit rough, comical or quirky edge. Hanna seeks inspiration from woods, peripheries and suburbs while exploring themes of modern urban life, as well as nature and cosmos in her work. She uses vector graphics and often creates an organic finishing touch by hand using ink, gouache, watercolour or pencil. Hanna is pleasant and easy to work with and she is never late on the schedule. Her latest passion is creating patterns for textiles – both clothing and interior. Her clients include Universal Music, VIMMA and News Media Finland.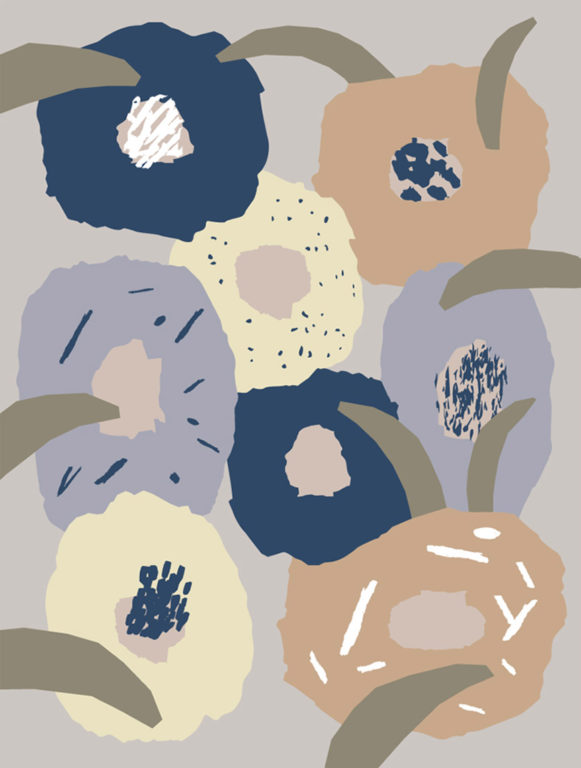 Hi Hanna! Nice to meet you and welcome to Napa! Tell us more about your background, like when did you discover and got interested in illustrating?
Hi! I am originally a small town girl from eastern part of Finland. I've graduated from Karelia University of Applied Sciences in both industrial design and graphic design. After my studies I moved to Helsinki where I worked several years before it was time to continue my journey to Berlin, where I've been living the past 2 years.
I got really into illustrating for the first time when I started designing album covers for artists. Every now and then I got the chance to illustrate the cover. It's not necessasrily easy to channel music into a visual form, but it's definitely something I really enjoy. I guess my major hands-on experience to illustrating was when I worked for daily newspaper and got to make my first illustration to tabloid sized page. Through that work experience I really got into visual storytelling.
Tell us about your typical workday as an illustrartor – what is the first task you do in the morning and how does your day usually ends?
One of the things I enjoy about the job is the flexible work hours, so days may differ a lot. Usually I start my day checking my emails and answering the most urgent ones. Then I check my to do list for the day and start working. Usually there are multiple projects on the table at the same time, so I'll focus on the ones with the most urgent deadlines. There's usually a lot of brainstorming, sketching and communication with the clients. At the end of the day  I'll double check my calendar to make sure the schedule seem realistic and update my to do list for the next day. I'm currently working from home, so at times it's a bit hard to remember to quit working as the workflow and endless desire for experimentation may have taken over. To balance out the work hours, I aim at walking, biking and reading daily.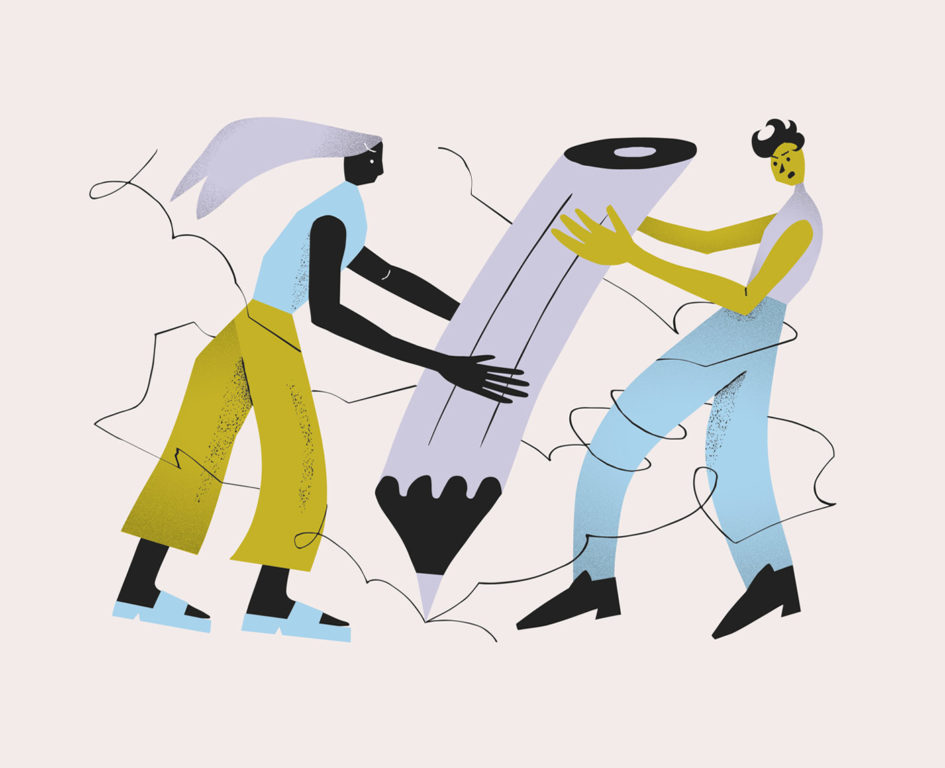 In what way your illustration style has developed during your career? What are the cornerstones of your artworks, what's your stylistical go-to?
It's a bit funny when I look back at my first newspaper illustrations ten years ago, it is safe to say that my style hasn't changed that much. I guess I could say I found my style quite early on. Obviously, I tend to develop new techniques and approaches, but the cornerstones of my style by which I mean a bit clumsy vectorshapes, contemporary details and the minimalistic colour palette have remained the same. Lately I've been adding more and more hand-drawn details to accompany the vectors. I love to explore colour creating even more delicious palettes.
What technique do you use, what does your process look like?
Throughout my journey in illustration, I've been a fan of vector graphics and been mostly working with Adobe Illustrator. In the past few years a bit more organic look has started to appeal to me, so I've moved on to work more and more by hand. Nowadays I have water-, gouache- and acrylic colours at my active disposal. My typical illustration is born by drawing the main elements on Illustrator as vector graphics after which I move on to finish the work on Photoshop with handmade textures and details.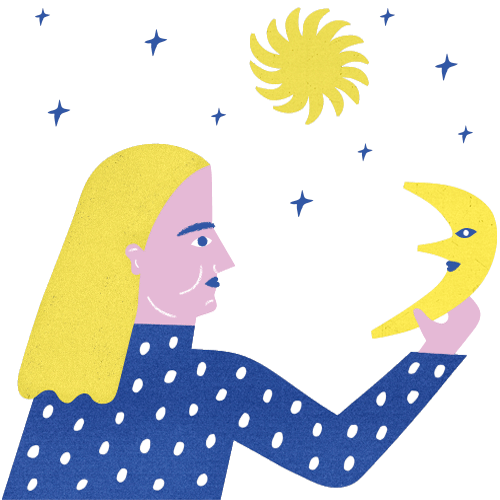 What's your work environment like? Name the first five things in your field of vision now!
I'm currently working from home in Prenzlauer Berg, Berlin. The living room has become my workspace. In addition to the computer corner, there are few pieces of furniture and lots of empty floorspace where I move on with ink, paints and draft paper, whenever there's a demand for more organic elements. I've got 2 windows where I can see the rooftops of the opposite buildings and clouds drifting by. If I look over my shoulder, I see the only piece of furniture I brought with me  from Finland, a 1950s bureau, on top of which I sometimes build my DIY photo studio. While working, my head tends to get a bit into a creative chaos, so I find it important to keep the my surroundings as minimalistic as possible.
Share with us the three most inspiring accounts you follow on Instagram. Who should we follow and why?
I feel tempted to list solely Finnish illustrators, haha! The level of illustration in Finland is super high and my current favourites are from there. At this point, I'm trying to expand the list outside of those, so that as many as possible could find new accounts to get inspiration from.
1. @bfgf One of my long time faves on Instagram. I love the bold but minimal aesthetic as well as those beautiful pastel colours. Plentiful figures and nostalgic references to pop culture blend into amazing pieces, which I would like to have in my living room.
2. @maryanneherb My latest favourite, Hauntingly beautiful, etherial pastel works about gloomy themes.
3. @studiojennituominen The old and new shake hands in Jenni's distinct and original style. The ink drawings and ceramic figures are my favourites. Future classics!
What else do you do apart from illustrating? Tell us some of your hobbies?
I fell in love with making ceramics about five years ago and the excitement seems to keep growing. After I moved to Berlin, I've luckily been able to dedicate more and more time to it as I found a wonderful studio, where I can work independently at my own pace, as well as exchange thoughts with the colleagues. This passion takes all my time as well as money, but I am fine with that. On top of ceramics, I enjoy exploring my new hometown by bike.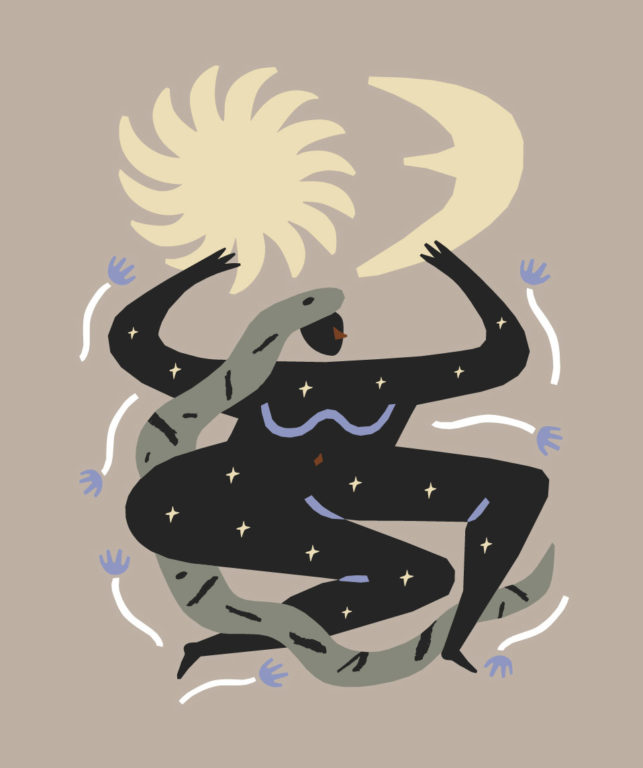 What has been the most challenging and coolest illustration assignment so far? And what would you like to work with next? 
That's a tough one. All of my commissions have been exciting and challenging in their own way, I can't name one over another. In the future I want to continue doing editorial illustrations and it would be thrilling to do more book covers. My latest passion is pattern design, and I would love to create more and more textile- and clothing patterns. I'm also up for exciting projects I couldn't even imagine myself!
CURRENT TOP 7:
Album: Discovery Zone – Remote control
Book: I must confess that I have plenty of books unfinished at the moment. I prefer biographies, so I pick Anaïs Nin – Diary (1944-1947), which works sufficiently enough as an escape during the (second) spring of the pandemic.
Superhero: This is a tough one….All the amazing people who live by their own standards.
Movie / TV -series: The Great Pottery Throwdown. I watched all the seasons on Youtube already last year, but I was delighted to find it on Yle Areena. I started watching it all over immediately :D. The series reveals the multi-staged and risky process of ceramic making and displays the joy when an item shaped out of a piece of clay survives through all the stages, out of the kiln, in one piece.
Exhibition: In Berlin we live in a rather tight lockdown for many months now, so I haven't visited any since the summer 2020. I've seen parts of the fine art graduates' (of Arts Academy of Turku) final exhibition "NYTT 2021" on social media and it seems interesting. If I were in Finland, I would definitely go to see "Woven Beauty" in Taidehalli.
City: Berlin, I've been here for 2 years now and it feels like the exploration has only begun.
The perfect pizza: mushrooms, pesto, sun-dried tomatoes, mozzarella.
💫💫💫
Thank you, Hanna! We're delighted that you're joining our roster of Napa Artists!
Visit Hanna's portfolio on our site here.
Did you fell in love with Hanna Malinen's illustrations?
Book her for your project by e-mailing: info(a)napa.agency.fi