Kati Närhi receives Sarjakuva-Finlandia, the comic art award of the year!
Yippee! We're happy to tell you that our fabulous Kati Närhi just won the Finland's most valued comic art award of the year: Sarjakuva-Finlandia 2016! Kati's comic novel The Seventh Guest was chosen as a winner from the 59 Finnish comic novels published in 2015. Woop Woop! We contacted our victorious illustrator to hear her thoughts on her comics and the award.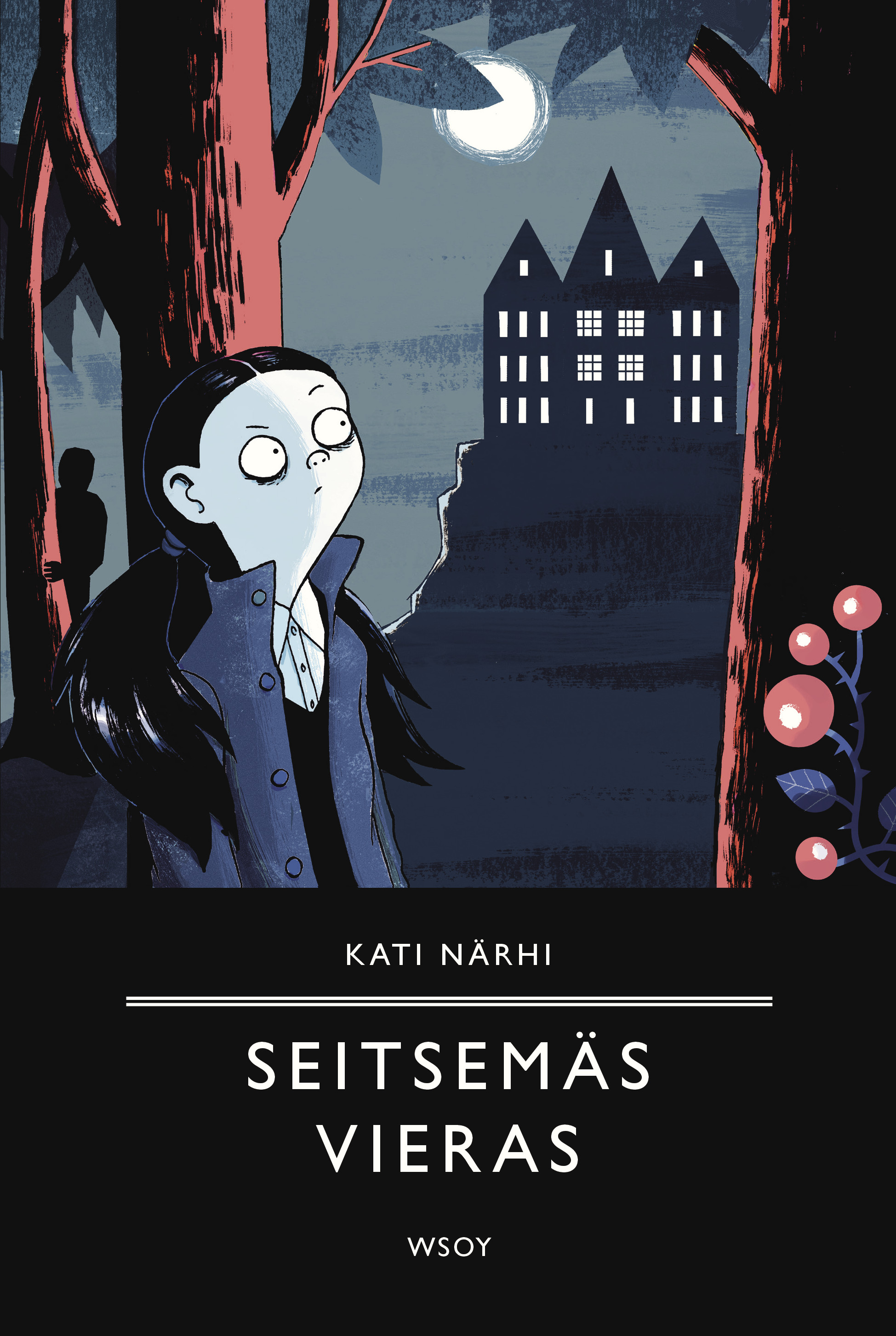 Hello Kati! How does it feel to get a recognition this big for your work?
It feels nice, of course. It's already a great deal to be in the TOP 10 – the winner is chosen by one person only (Heli Sutela, Finnish actor & comedienne, picked the winner this year).
How did you end up with making comics? What was first: comics or illustrations?
I guess I found comics first. I've been drawing all kinds of things since I was little, but my first commissions were for comics. When I was studying general literature and aesthetics at Helsinki University I earned some extra money by drawing comic strips for the Sipoo Newspaper. Later I also got my cartoons published in Ilta-Sanomat, one of Finland's two prominent tabloids. At the same time I got interested in making zines as well. When I started studying at University of Art and Design Helsinki along came illustrating.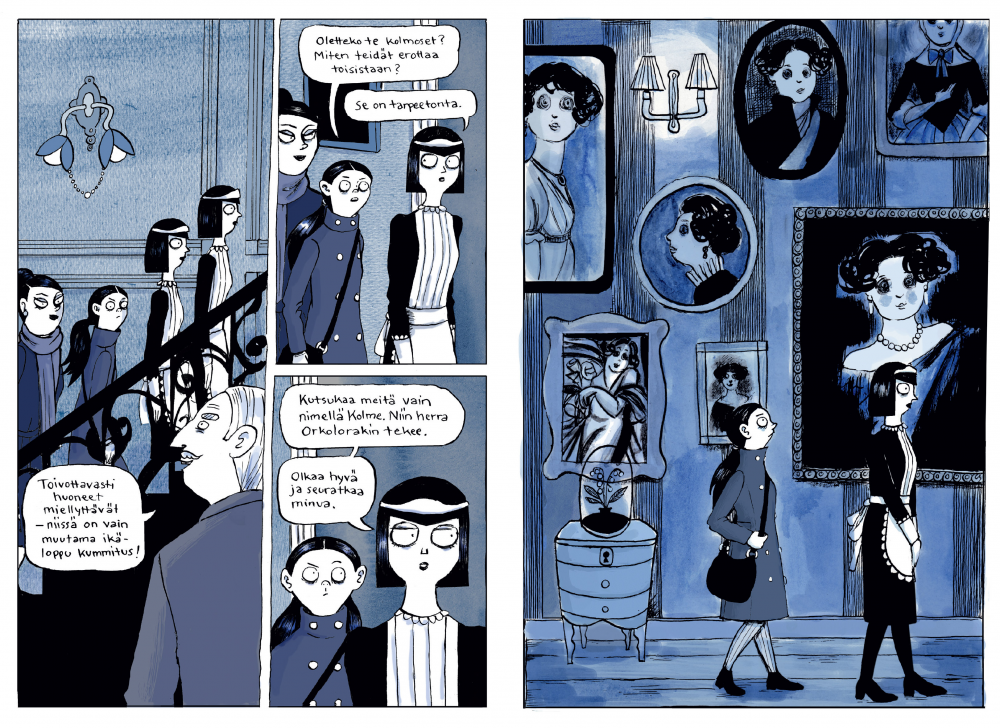 Tell us a little bit about your creating process – do you start with the story or do you draw the characters and surroundings for starters? 
When I get an interesting idea, I write it down. The first framework of the story is usually quite unspecific, because I don't yet want to set down with anything. Then I design and sketch the characters and the settings. Typically the process goes this way: I plan the first chapter more delicately and when I'm drawing it – the next one starts to develop in my mind. When I'm starting, I'm not even sure myself what's going to happen in the book! The story reveals itsef slowly, while I'm working on it.
The main character Agnes' adventures, are they just a product of your imagination or do you get influenced by what you're experiencing in your life?


Mainly it's my imagination. But of course sometimes I pick something for the story that I've experienced –or something that I've recently read or heard.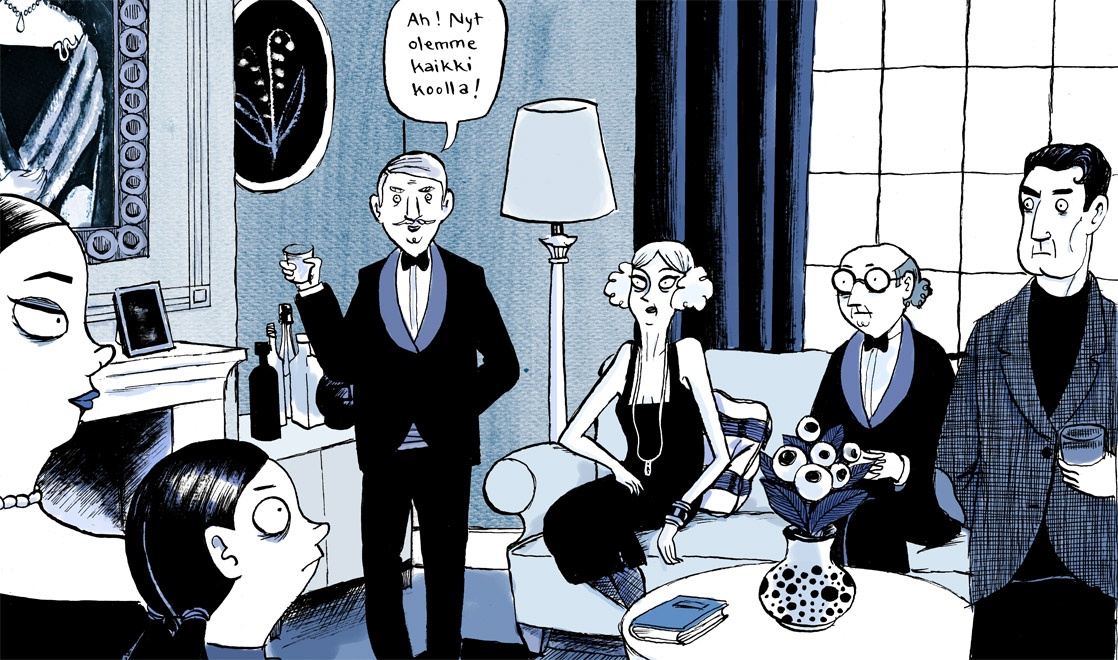 This award winning novel "The Seventh Guest" is a final piece of your comics trilogy. Last fall you had a show at Annantalo in Helsinki. The exhibition included unforeseen comic pieces, and we also got a chance to learn more about the characters and the background of the stories. Do you dare to unveil the future, is there going to be more of mysteries, comics or exhibitions?
Currently I'm designing and developing a new cartoon, but at this point I can't tell you more about it – because who knows what it's going to be when it's ready! The one thing I can say, that it's not going to be an Agnes story. The Seventh Guest trilogy was pretty arduous, so now it's nice to work on something else … for example: illustrations!
Thank you Kati, and one more time: CONGRATULATIONS!
If you can master Finnish, you'll find more info on the "Sarjakuva-Finlandia" award here.
You can also read more about The Seventh Guest and buy it here.