New Napa Talent in agency's roster: Please welcome Jenni Saarenkylä!
Christmas came early this year! We have wonderful news for you this Friday. Napa Agency just got fuller with ONE illustrator, and it's such a talent we're so thrilled! Please meet gifted artist Jenni Saarenkylä! She's got the humour, she's got the style & colours in her illustrations – and she's a really talented pattern designer as well. Want to get to know our new addition to the roster a bit more? Pour yourself a nice cup of coffee, or a spicy x-mas glögg, and take a moment to read Jenni's interview below and see her work in freshly baked Napa Portfolio.
Jenni Saarenkylä (s.1985) is an award-winning, multidisciplinary illustrator. Currently Jenni is based in Bournemouth, UK but being originally from Parikkala, Finland. She graduated with an illustration degree in 2009 and a Master of Arts in Illustration in 2018 from Arts University Bournemouth. She enjoys visual storytelling and problem solving, illustrating both by drawing digitally and utilising paper cut shapes. As part of her pattern design practice Jenni likes to play with colours and shapes. Among many other works, Jenni has created animated advertising illustrations (Hammerson), illustrated packaging (Lush) and illustrated a picture book, an app and a card game as part of an educational project for pre-school children (Aikakausmedia). Her works have been recognized in various competitions, such as Macmillan Children's Book Awards, Creative Conscience and Cheltenham Illustration Awards.
Specialty: Pattern illustration, advertising, packaging, motion illustration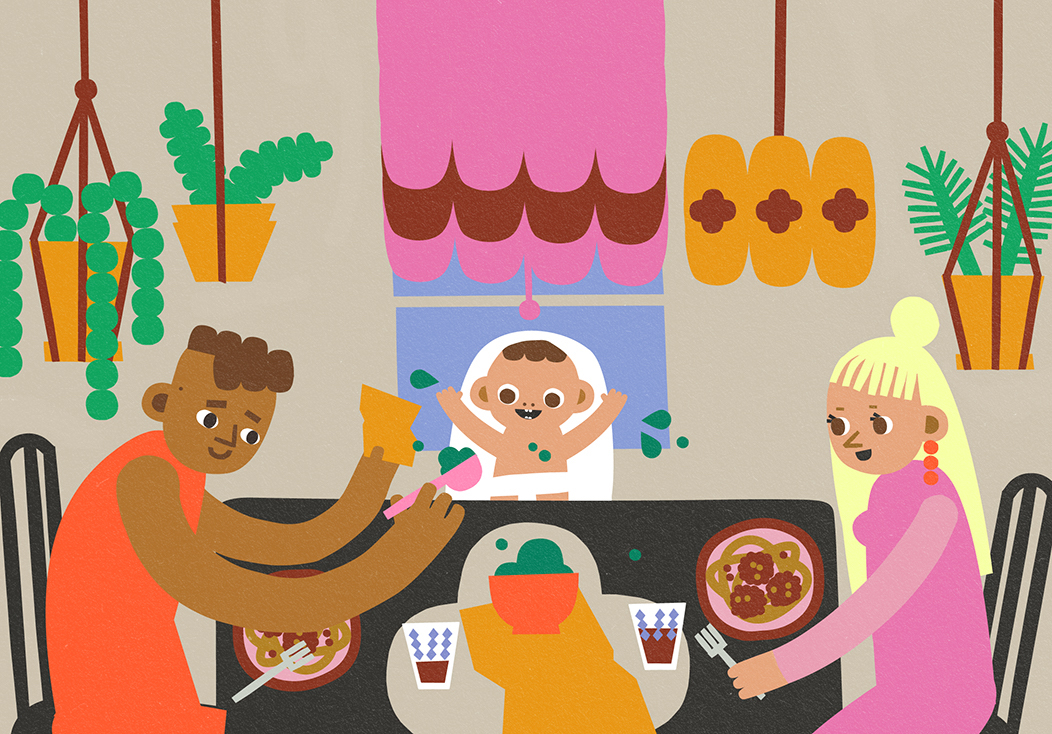 Hi Jenni! Nice to meet you and welcome to Napa! Tell us more about your background, like when did you discover and got interested in illustrating?
I always wanted to be an artist and my parents were super supportive of my artistic aspirations and hobbies – for example I went to an oil painting course when I was very young, maybe 10 years of age!
After graduating from an art focused high school in Finland I decided to go work in England to learn the language. Accidentally 6 months turned into 16 years, as I decided to study illustration in Bournemouth, and I'm still here!
My first paid illustration job was an album cover for a band called Fierce Creatures while I was still a student, but my first commission after graduating from the BA Illustration course at Arts University Bournemouth was a Christmas tin illustration for Lush. The best thing about this was of course, that in addition to the fee, I got a box full of the tins filled with Lush stuff – that Christmas getting presents for everybody was easiest ever!
What technique do you use in your illustrations?

Recently my practice has involved either cutting shapes out of paper and vectorising them, and then rearranging these shapes to create characters and environments.  I enjoy setting myself these limitations, as it frees me up to experiment! I love the problem solving part of figuring out what can be done with a set of fairly basic shapes. Other times I draw things quickly using either a mechanical pencil or a Pentel marker to come up with interesting compositions and characters. Then I photograph the creations quickly on my phone and use it as a guide layer either in Photoshop or Procreate on a tablet. Both of these methods allow me to generate ideas and work quickly.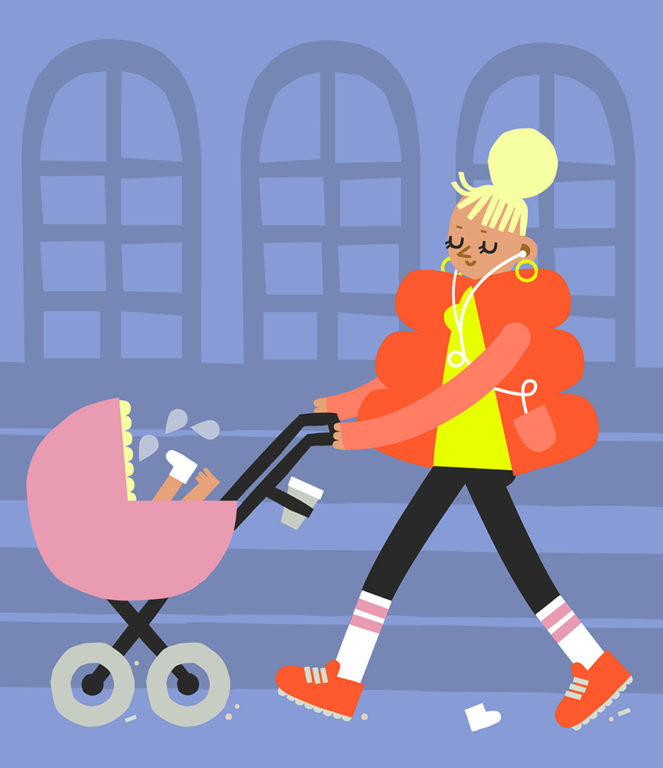 In what way your illustration style has developed during your career? What are the cornerstones of your artworks, what's your stylistical go-to?
At the beginning of my illustration career I appreciated more traditional drawing and painting skills, along with anatomically more realistic characters. Back then I would use watercolours and ink, but over the years I've come to adopt way brighter colours and more abstract forms. Digital illustration tools have also sped up my work flow significantly! The cornerstones of my style, I would say, are strong sense of composition, bold colours and expressive characters.
You're also a very skilled pattern designer – how does the creation process goes with the patterns?

My process of designing surface pattern illustrations is slightly more free, and often a result of playing with colours and shapes. Usually whatever themes emerge from having fun, results in collections or variations of patterns and colourways.

You live in Bournemouth. Expose your favourite spots, what is the most inspiring place for you? And what place in the town would you like to visit, but still haven't had a chance to?

Bournemouth is a fairly small, but vibrant student town, with nature on its doorstep. I live near the beach, about 3 minutes away by foot. Often, if I'm having a creative block, I pop down to the beach through a little pine forest – this is the most inspiring place in Bournemouth for me! Walking really helps me process a brief and come up with visual solutions. I've lived in Bournemouth for 16 years now, but I've never visited the little science museum we have here – so I'd like to go there one day to do some drawing of their collection!
Share with us the three most inspiring accounts you follow on Instagram. Who should we follow and why?
1.. Egle Zvirblyte @egle_zvirblyte Egle is a multidisciplinary illustrator, with a fun and colourful, recognisable visual style. She posts her own work, sources of inspiration and funny memes daily!
2. Molly Fairhurst @molly.fairhurst Molly uses a wide range of mediums on her work, and I'm mostly fascinated by her experimental approach and knowingly naïve human and animal characters.
3. David Shrigley @davidshrigley There's something very interesting in these sloppy looking paintings – maybe it's the artist's ridiculously funny and rude comments that go with them!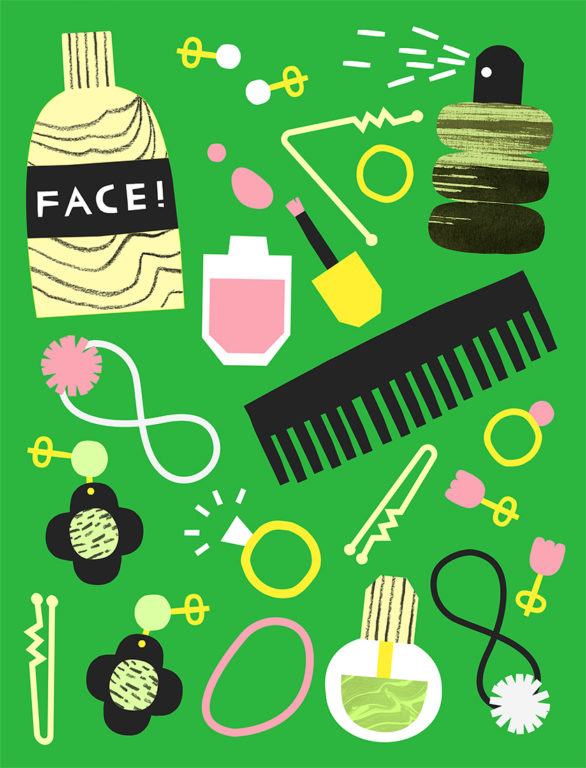 What do you do besides illustrating? Tell us some of your hobbies!

I am an illustration lecturer at the Arts University Bournemouth. I love teaching and I really enjoy being amidst all the creative buzz! In my spare time I enjoy going outdoors and on nature walks, and weekend trips to London or other cities to visit galleries and museums.
What has been the most fun illustration assignment so far? And what would you liked to work with next? 
A few years ago, I got an opportunity to work for Burberry in their London HQ for a week alongside a small team of illustrators. Some days we worked for a solid 12 hours, but I loved the energy and how everyone pulled together to get the project done in time!
My dream illustration job would be something along the lines what Egle Zvirblyte did for Adidas last year – her colourful illustrations and patterns adorned a whole collection from trainers to t-shirts. It would be amazing to one day illustrate a fashion collection!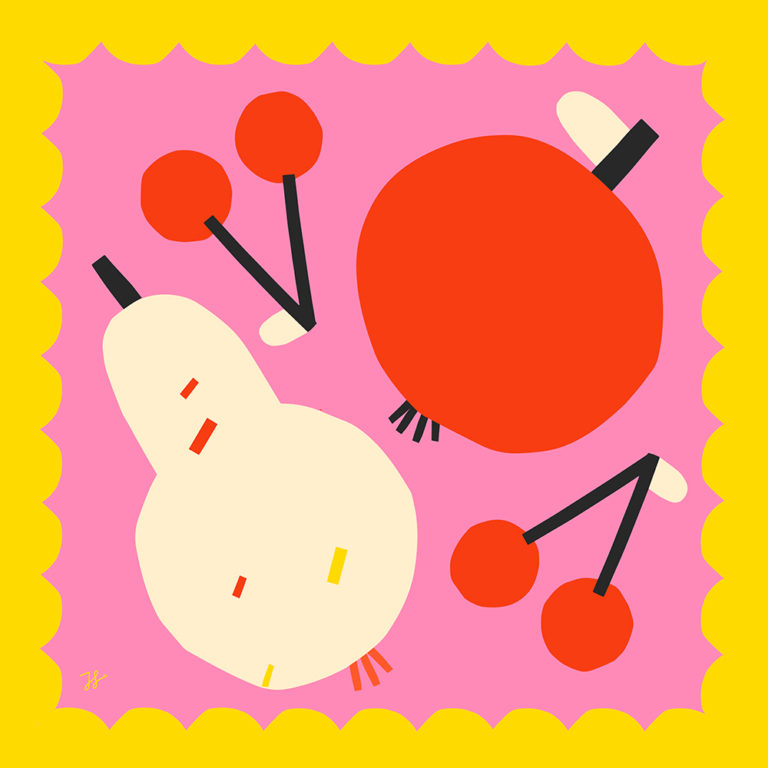 What is your advice to all beginning talents in the illustration field? And do you have any tips to your new clients who are planning to commission illustrations from you?
Follow illustration trends, but challenge your own practice by looking for inspiration outside of social media and the illustration circle. And make lots of work. Draw every day!
A tip for a client who is hiring an illustrator for the first time, is to manage expectations by being clear about deadlines and the intended application and scale of the illustration project!
CURRENT TOP 7:
Album: 
I listen to music ALL the time, so it's difficult to pick a top one…but currently listening to Peggy Gou!
Book: 
Jon Ronson – The Psychopath Test

Superhero: 
David Attenborough
Movie / TV-Show: 
Currently watching the 3rd season of the hilarious What we do in the Shadows! Taika Waititi's movie of the same name is funny too and one of my favourites.
Exhibition: 
I'd like to go and see the LUX in London.

City: 
Bergen! I went there for a short trip to recharge – it was a wonderful mix of hiking up the mountains, beautiful old wooden houses, trendy restaurants and friendly people.
If you were a cocktail..what would it be:
Hmm.. mimosa? Bubbly and fresh? 😀
Thank you, Jenni for the intreview! And once again welcome to our roster of Napa Artists!
Visit Jenni's portfolio on our site here.
Did you fell in love with Jenni Saarenkylä's illustrations? Book her for your project by e-mailing: info(a)napa.agency.fi