New rising star in Napa – Illustrator Juliana Hyrri joins agency's roster
We've got a good streak of new additions to the agency's roster going and now have one more for the March! Are you ready to meet the charming, delicate but rough-style illustrator Juliana Hyrri??! We sure are! For us here at Napa Agency, this new gorg artist addition is like returning to the roots of Napa: we are once again on the verge of multi-art, comics, visual art & commissioned illustartions! And oh yes, it is a fine alignment of everything we LOVE! Now, please welcome Juliana Hyrri!
Juliana Hyrri (b. 1989) is a Helsinki-based visual artist, illustrator and award-winning cartoonist. She holds a Master of Arts degree from Aalto University and is studying for a Master of Fine Arts at the Academy of Fine Arts Helsinki. Hyrri's illustration style is a hybrid of traditional and digital, with a focus on lines and textures made by traditional methods. She enjoys the combination of a rough and airy imprint, a delicious picturesqueness, and the versatility of working in the field of art. The subjects close to her heart are vegetation and nature, animals, childhood themes and interiors, but Hyrri is also happy to grasp abstract, psychological and philosophical themes. Her clients include the Kone Foundation, the Ministry of Education and Culture, the City of Tampere and the University of the Arts Helsinki.
Specialty: traditional illustration styles, animal and nature subjects, comics, book illustrations, magazine illustrations, mural painting and space art works, character illustrations, illustrations for children.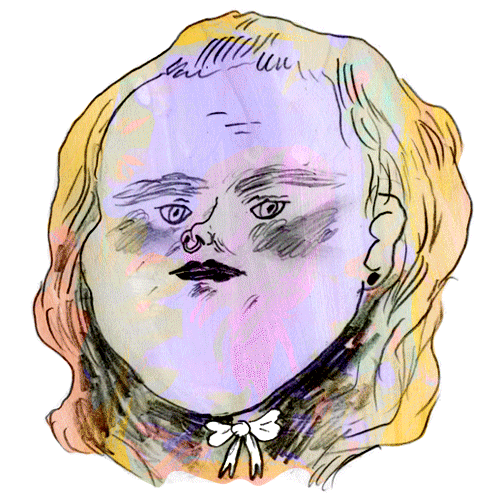 Hello Juliana! Tell us a little bit about yourself. Where do you come from, and when did you discover and got interested in illustrating?
I am a visual artist from Helsinki, with a focus on painting, comics and illustration. I got excited about comics when I was studying for a Master of Arts degree at Aalto University, and soon after illustration entered the pattern as a natural continuation. I made my first editorial illustration for Sarjainfo magazine in 2017.
In what way your illustration style has developed during your career? What are the cornerstones of your artworks, what's your stylistical go-to?
At some point I was stuck with the idea that an illustrator needs to be some-kind of a digital virtuoso and I tried a variety of different styles and ways of working. Gradually, I reverted to the more traditional methods and realized that I could very well rely on the development of my style in that field. And that's what happened. I often combine a hand-drawn delicate yet rough lines with painted surfaces, and I might play with colors digitally. I really like a certain kind of liveliness and often I feel that even my static works are kind of moving because of the way they are made.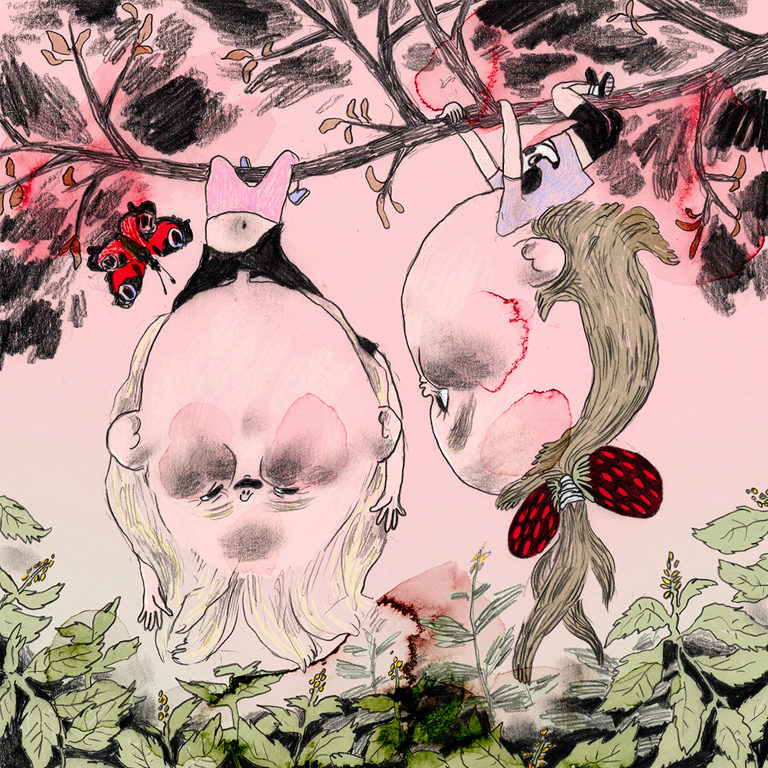 What technique do you use in your illustrations?
Especially close to my heart is that ah-so-traditional pencil found even in every schoolkids' pencil case. It's incredibly versatile as a tool. Almost all of my line work comes from the tip of a pencil and I use Indian ink to make the painted surfaces. I build my illustrations out of separate parts digitally, so everything doesn't have to be ready at once, and there is more room to experimentation and trying out different compositions.

You're also an awarded cartoonist – what are the most important steps when making comics?
One of the most essential stages in making a comics is writing, which I didn't even know I liked so much until I found comics. Often I have a clearer picture of the story in my head, and the sketch phase requires nothing more than to think about the places of the texts in relation to the grid and panels. I draw the actual pictures directly, even though it requires a lot of thought. It is wonderful to get the elements in place without sketching, because that way the end result retains some immediate lightness.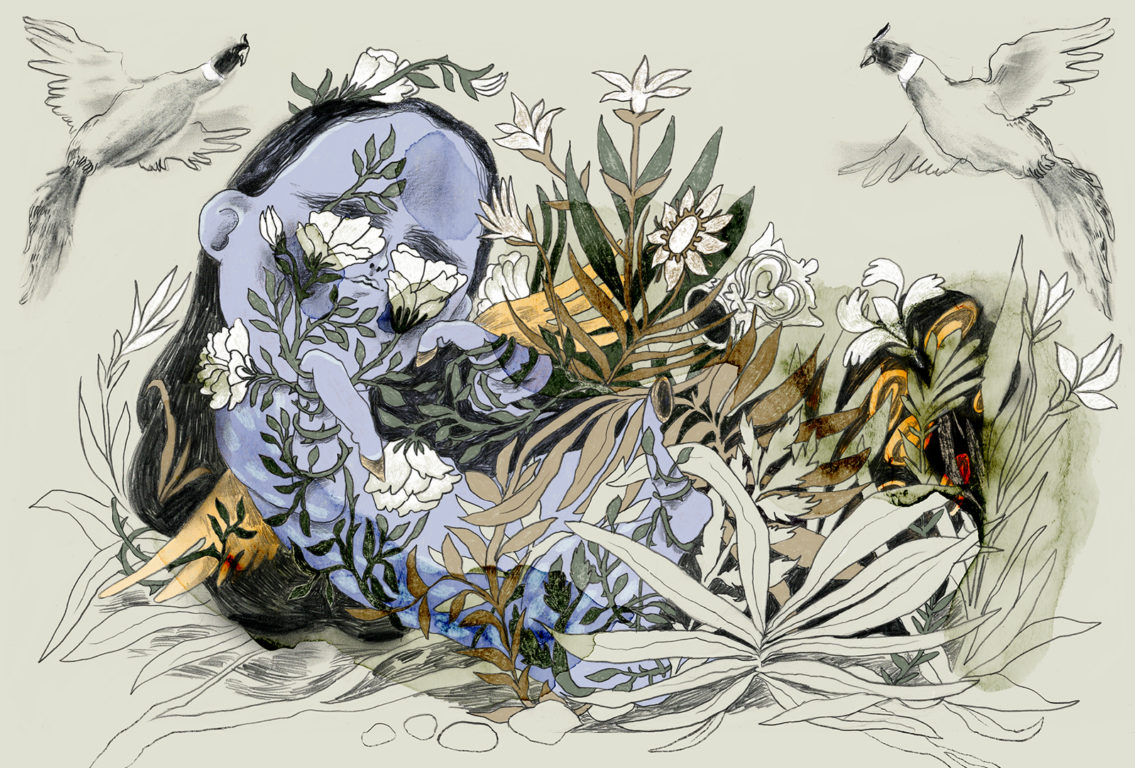 In what kind of environment do you work? Spot and name three first things you see in front of you right now!
I currently have three workstations: a kitchen table at home, a shared office with a friend, and my own workspace at school. Now my eyes can catch at least a glass hare, a hibiscus and a Hemuli hatched from a chocolate egg.
How does your working day usually go – what is the first thing you do in the morning and where does your day end?
I'm not a fan of clear working hours, I prefer to sprinkle my work around the day. Of course, it's easy to reply to the busiest emails over coffee in the morning. If I'm hit by a decent flow then the work day may be disproportionately stretched, sometimes I can afford to relax more. I might go off to somewhere in the middle of the day and so on. Creative work suits my nature well, because in addition to responsibility, it offers a lot of variation both in terms of content and schedule.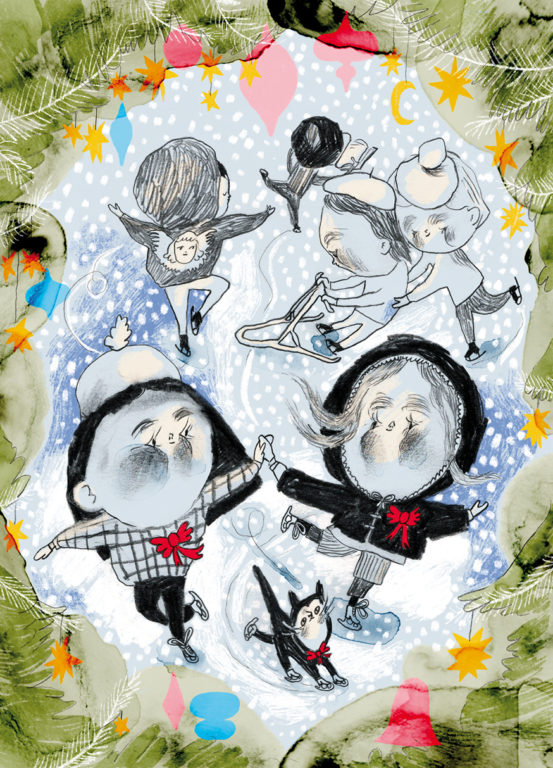 Tell us yout top 3 idols. Who do you admire and why?
Well phew! Hard question, there are so many great artists around me.
1. Aino Louhi @ainolou is a multidisciplinary artist and makes wonderful cartoons, paintings and illustrations. In addition, our debut graphic novels were released at the same time.
2. Marika Maijala @marikamaijala whose illustration style is delightful.
3. Eero Yrjölä @eeroyrjola whose works touch me and with whom I have had an indefinite number of discussions about art.
What do you do besides illustrating? Tell us some of your favorite things to do on your freetime?
I do a lot of art stuff, exhibitions and the like. I tinker with my cats Kimmo and Poopy as well as plants and collect items that produce visual joy such as porcelain animals and art. There are a few Especially Important people in my daily life with whom I spend time more often, and then there are all those other great people. I also just like to take naps.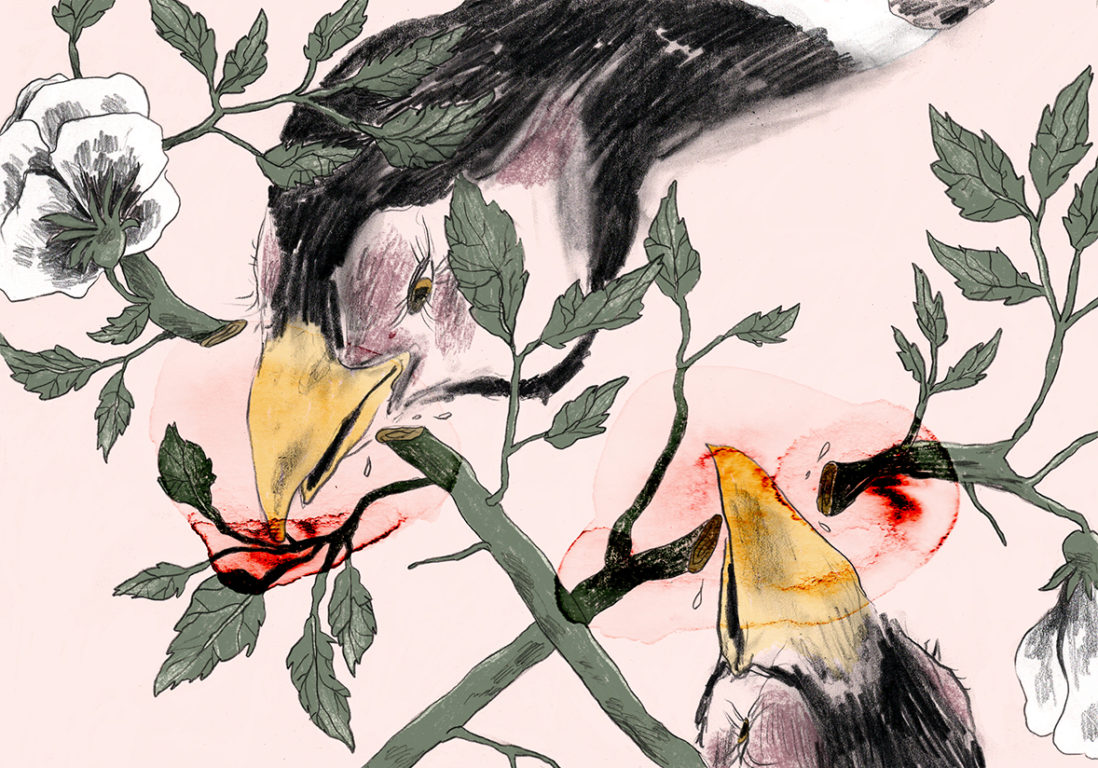 What has been the most memorable illustration assignment so far? And what would be the dream illustration job?
I illustrated one part of the Kone Foundation's Different Routes article series. It was memorable because of the challenge of the topic; I really got to think about how to present the subject of the article in images. The illustration work of my dreams would be a large entity where I could draw a lot of different animals and nature subjects.
What is your advice to all beginning talents in the illustration field? And do you have any tips for your new clients who are planning to commission illustrations from you?
For the illustrators who are just starting, my tip would be to draw a lot and to be persistent! For my future clients I would ask to trust the illustrator's vision.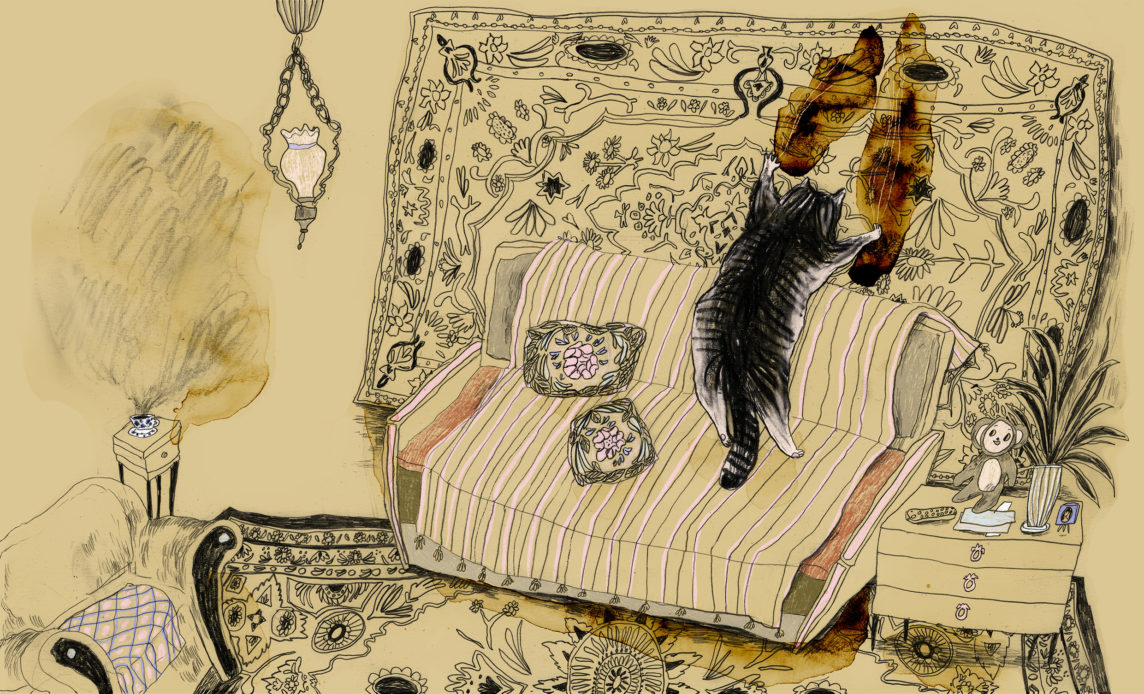 CURRENT TOP 7:
Album: When I work, I keep the radio open, mostly YleX.
Book: The Little Vampire by Angela Sommer-Bodenburg, which I read as a child and the first part of which I read in my nostalgia mood at the moment. It has great illustrations, by the way.
Superhero: Courage the Cowardly Dog.
Movie or tv-series:  The Crown has been on my mind lately, there's a new season coming soon.
Exhibition: Kerttu Saali's The Time of Light at Galerie Forsblom, ah that imprint and light!
City: Angoulême in France, where I was at a comic festival just a while ago. That city itself turns into a comic once a year.
If you were an animal or a plant…: If I were an animal so surely a cat, they are allowed to do whatever they want, laze somewhere on top of the closet out of reach and despise the happenings around them. If I were a plant then somewhat of a cactus, in the style of an "old boy". Prickly, strangely shaped and modest-looking, but blooms with the largest and scented white or pink flowers. Somehow that contrast is charming.
Thank you, Juliana! To visit the portfolio, pelase visit here: https://napa-agency.fi/kuvittaja/juliana-hyrri-new/?lang=en