Illustrator & pattern designer Riku Ounaslehto joins Napa!
Oh happiness! Napa's creative gang gets a new super member! Welcome along Riku Ounaslehto! His specialties are vector illustration & pattern design. Riku lives in the northern part of Finland so in his illustrations you can see a lot of lovely Nordic nature & animals!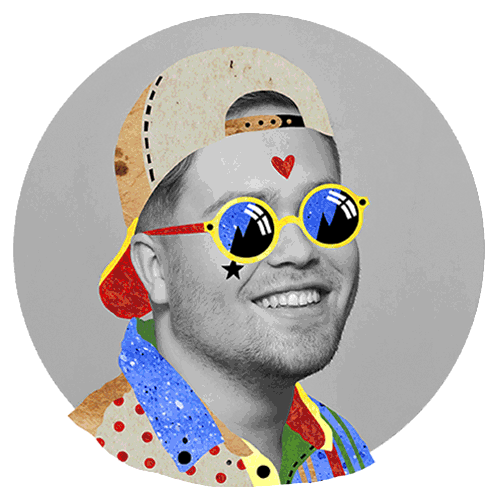 Riku has been studying graphic design in the Faculty of Art and Design in University of Lapland and he is also a visual artisan. The themes in Riku's illustrations range from humorous characters to Lapland's nature so his detailed works are often filled with Nordic plants and animals. Riku's works are usually made with vector graphics but he also combines other techniques and bold colours in his works to create his unique style. To counterbalance the digital world, Riku draws and paints also with traditional tools. Riku is happy to work with different projects – he can master quick & neat vectors as well as voluminous & detailed patterns. For the last couple of years Riku's passion has been designing textile patterns – and now those patterns are conquering the world from the USA, France, Italy, Spain, Sweden, Germany, South Korea, China, India and Australia.

Hi Riku! Please tell us a little bit about your background, when did you discover illustrations?
I've always been a bit obsessed with drawing. When I was little I was drawing birds all the time – outlining their eyes and wings incredibly accurately. Back then I always wanted to draw something for my relatives and friends – for example I made my own versions of the board games for myself & others. In primary school the pace got sometimes so fast that I didn't have time to colour the drawings. I drew the outlines and marked areas with codes for colours and then passed them along for colouring!
What techniques do you use in your illustrations and how does the process usually goes?
In the last 10 years my process has become more & more digital so I'm basically married to my graphics tablet. Vector graphics are very pleasing to my eyes as I'm sometimes quite pedantic. I love it when small details remain the same no matter if I scale objects to bug-size or stretch them as large as the building wall. On the other hand, it's also great to create a character's silhouette with watercolours first and only then process to vectors. It also works the other way around – first working precisely on the computer and after that changing the whole thing to look like a handmade painting.
Describe your work environment & name the first five things that you spot!
I dream of my own studio space but at the moment I enjoy working at the big table in my living room, which has replaced the small & impractical workstation.
The first thing that I see is the magnificent old window, as I live in Oulu's second oldest residential building. Next, I notice things on the window sill; the flower pot made by me, candle holder, bird books and jewelry box. The third thing I spot is the pair of pictures hanging on the wall – the waterfowl and hawk illustrations which I bought from the C. Hagelstam antiques from Helsinki. Next I see the coffee table with dear decorative items and the last thing I see is of course my computer & the drawing pad!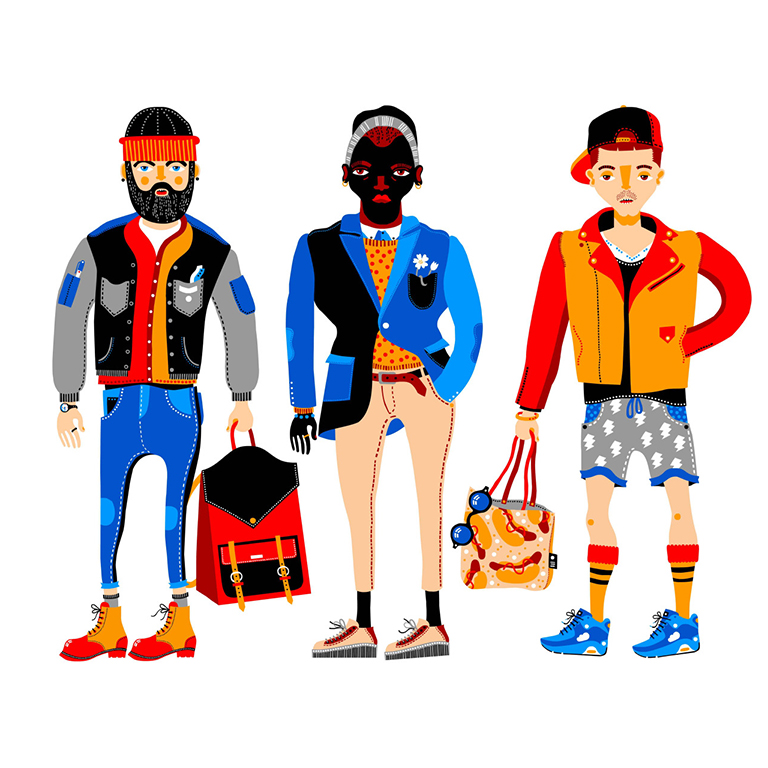 You're currently living in Oulu. What is the most inspiring or exotic thing in the Northern Finland?
As a child my favourite stories were about North, winter or Christmas. Northern animals and nature fascinate me – and I actually visit my relatives in Kittilä & Rovaniemi to get some new ideas. The coolest thing is northern nature in its entirety and how it changes so dramatically during the different seasons.
You're very skilled and productive pattern designer – where do all the ideas come from?
I love the detailed artwork and decorative ornaments, so I get most inspiration from that scene. Also plants & birds inspire me a lot! Sometimes I think what people would like to see at home or at work. Would humoristic pattern work at some places? I think that with humour and fantasy you can create something interesting for the everyday life.

Tell us the best & the most challenging thing at being an illustrator.
The best thing is when people recognize my style. Seeing my illustration or pattern on the final product, like book or piece of clothing, is always very cool! For me the challenges in this profession are related to social media, like what is the best way to present myself to the world professionally. Finnish modesty is good – but you should also be able to showcase your skills & works!
Do you have any hobbies? What do you do besides illustrations?
The last three buildings in which I've rent my appartment have been so beautiful that I wanted to respect them with my interior decorating choices. The items that I have collected here and there as a student, have now gradually changed in to the entities that stand the test of time. But of course there's always some corner that needs enhancement. In addition to my passion for decorating I go running & biking.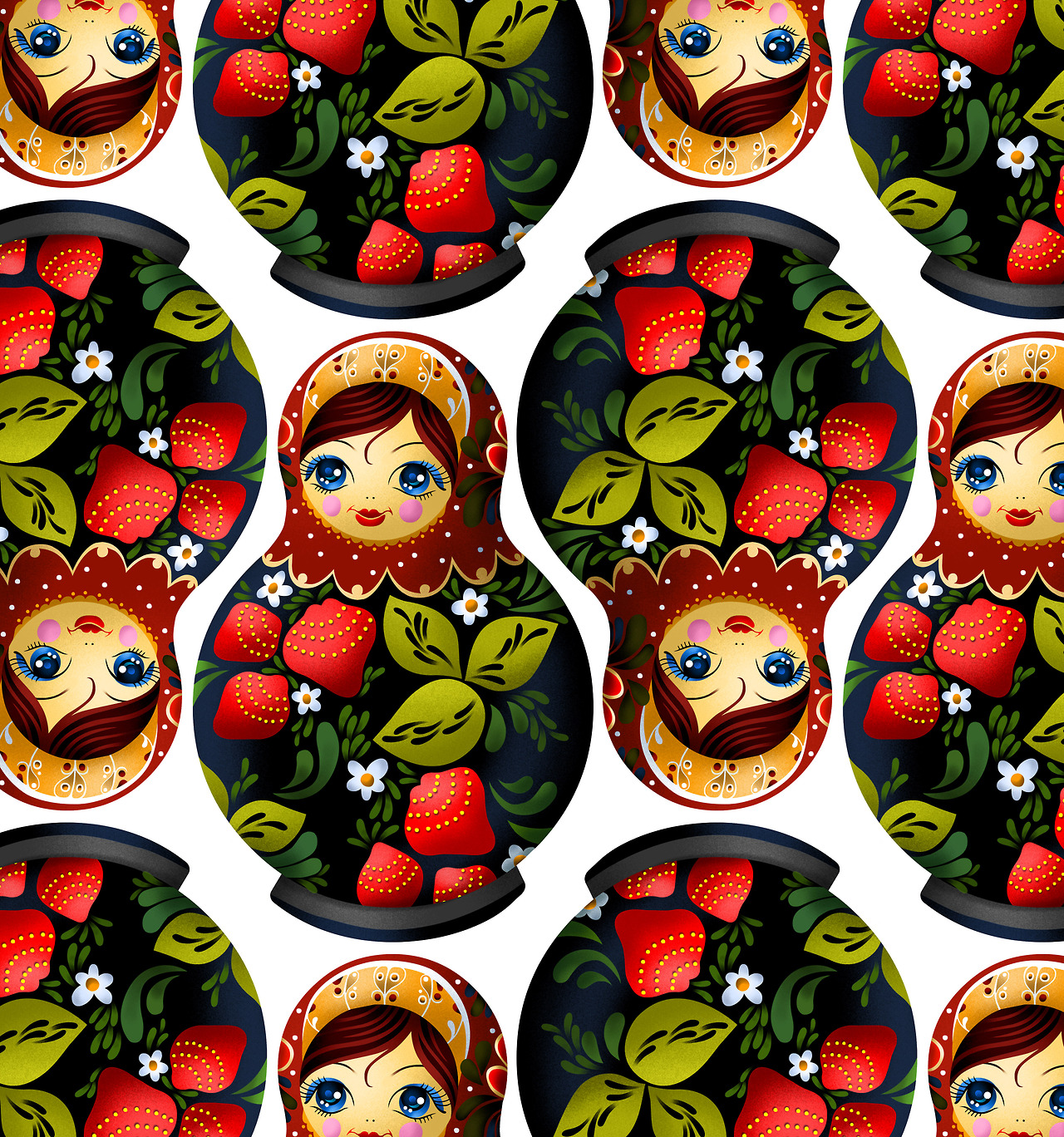 What has been the most memorable illustration assignment so far? And what would be the dream illustration job?
My all time favorite commission has been the tattoo design, in which the genie figure rises from a high heel shoe instead of an usual genie lamp! The tattoo artist liked the shades of grey I've created, but there was also a lot of work in the details. The final tattoo looks still pretty amazing and small features are still precise. My dream commissions would be illustrating a table-ware set, creating cover art for pop singer MIKA's album, designing pattern collection for Givenchy – and I'd also like to make my own storybook!
Current TOP 7:
Album: BANKS – The Altar
Book: Benjamin Kunkel – Indecision
Superhero: If mom doesn't count, Beyoncé 😉
Exhibition: Stories of Finnish Art – Ateneum's travelling exhibition
Movie: The Girl on the Train
Artist: Josef Frank and Samuli Heimonen
City: Helsinki
Thanks Riku! So good to have you in our terrific illustrator team!!
Check out Riku's portfolio here: www.napa-agency.fi/riku-ounaslehto
He also makes designs to license (ask for a link to the material info@napa-agency.fi)