The city tells a new story – Riku Ounaslehto illustrated Mobile Library Helsinki!
This fall, you can spot a new vehicle roaming the streets of Helsinki! Napa's star artist Riku Ounaslehto illustrated Mobile Library Helsinki's surface, and now the masterpiece full of fantasy creatures and fairytales is finally here!
The mobile library is called Stoori, and it replaces its predecessor Stara. Stoori brings a whole new library experience for children with convertible interior and solar panels on the roof. How cool!
For the mesmerizing illustrations Riku got his inspiration from children's literature and Hayao Miyazaki's animation art. Enchanting creatures wonder, fly & crawl in an urban environment.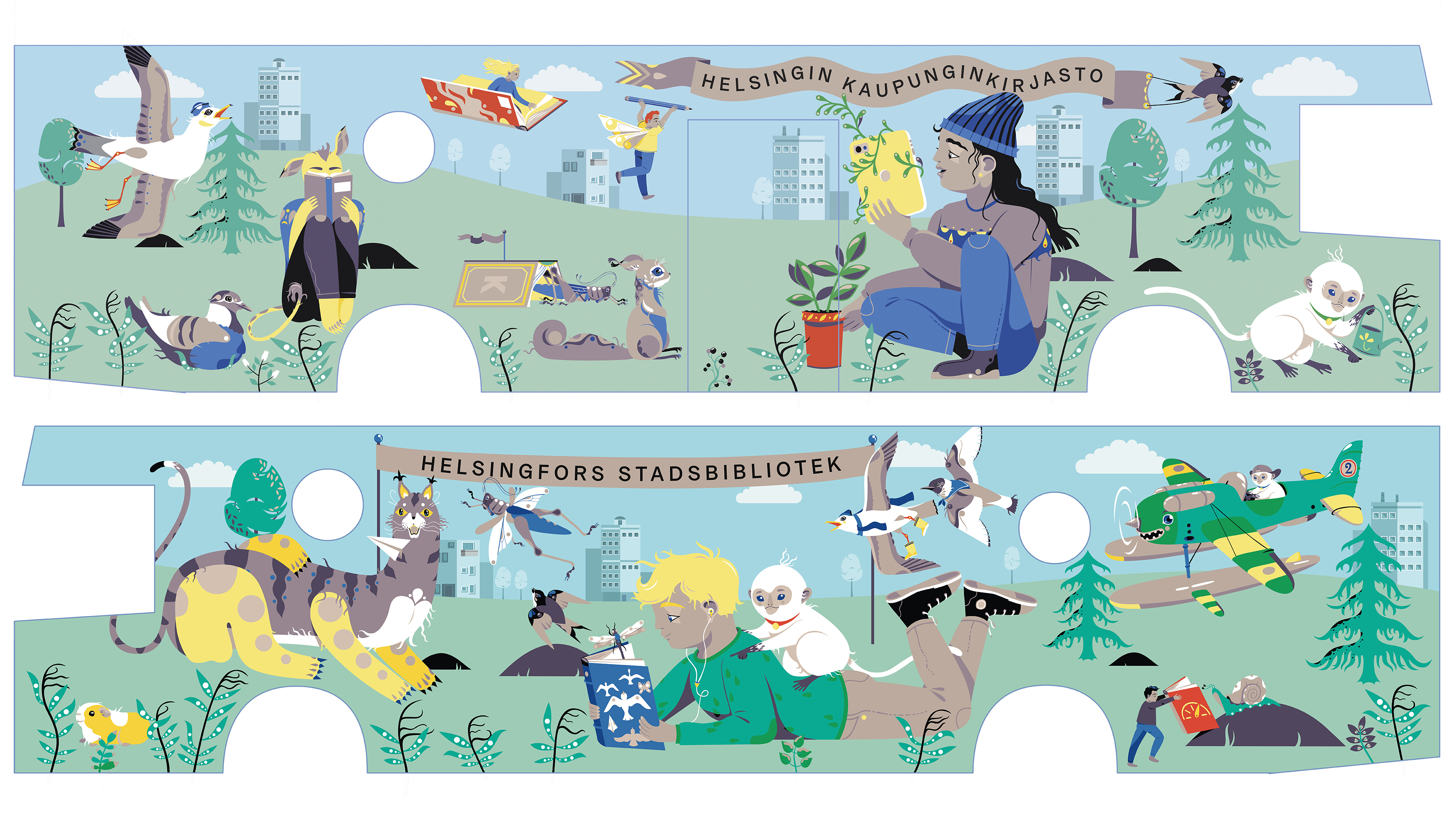 "The inspiration for the Stoori illustrations came from the diverse canon of children's literature, which even adults can enjoy. Fantasy is a prevalent element in children's books, which is why I wanted to include aspects of it on the sides of the car. The scenes presented in the illustrations contain hints of the seaside metropolitan area. The entrance side provides an introduction to the world of plants through a tablet. The other side depicts dreams of flying. Looking at the illustration, you notice that the yard animals intrigued by books have been stealthily joined by rare monkeys and even some fantastical creatures", Riku describes his illustration.
On Saturday 7.11.2020 we all have an opportunity to visit or see the new Mobile Library. The tour goes around Helsinki:
Ala-Malmi 9.30–11 am.
Stoa, Itäkeskus 12–13.30 pm.
Senate Square 14–15.30 pm. Welcome!
Read more about Stoori from Helmet libraries website.
See a collection of Riku's amazing illustration work in his portfolio!