Goddesses designed by Emmi-Riikka Vartiainen got into stamps
Napa's super talented illustrator Emmi-Riikka Vartianen was given the honor to design two stamps to Europa-series, whose theme this year is stories and myths. Emmi-Riikka was the perfect choice for the project because as an illustrator, she is interested in subjects such as fantasy, history and mysteries of the mind. Stories and myths of the Europa-series is a 10-stamp sheet that includes two different international no-value indicator stamps. In these stamps, you can find different characters from European mythologies!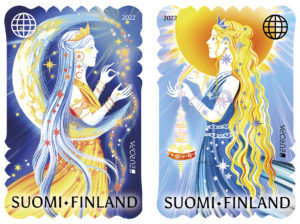 The stamps designed by Emmi-Riikka feature two goddesses, Päivätär and Kuutar, that are mentioned in Karelian and Finnish folklore and mythology and our national epic, Kalevala. In the stamps, Päivätär and Kuutar spin gold and silver yarn, and weave golden and silver clothes out of them.
"Päivätär an Kuutar are celestial goddesses that work with light, and illustrating them was captivating. I imagined being part of their stories myself, where my task was to capture their essence from the pages of the book and illustrate their beauty and abilities. Illustrating mythological female characters was a thrilling experience from start to finish, and something to which I will definitely always return." Emmi-Riikka says.
To see more of Emmi-Riikka's magical illustrations, you can visit her portfolio here!