Illustrator Sanni Wessman joins Napa Agency's roster!
Now finally, some good news! This bizarre year is coming to an end and we're happy to close it with new marvelous talent in our agency's roster! We're happy to introduce to you our young and talented illustrator: Sanni Wessman! Welcome aboard our amazing crew of Napa Artists!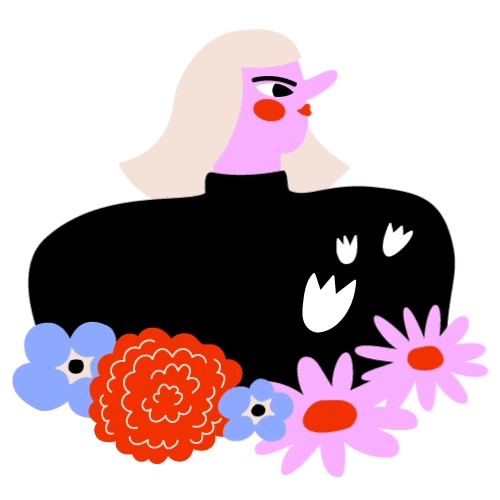 Sanni Wessman is a Helsinki-based illustrator and graphic designer. She has graduated from Aalto University and studied a part of her degree at School of Visual Arts in New York. She has worked both as a freelancer and as a graphic designer in an advertising agency. She specializes in bold color palettes, characters with lots of personality and nature themes. Sanni is in her element when it comes to vector graphics and she also masters motion graphics. Sanni always has a positive and joyful attitude towards working and she is both trustworthy and punctual.
Sanni Wessman's clients include Juustoportti, Avainapteekit, Yhteinen Pöytä and her granny <3. She was chosen as one of the Rising Stars of 2019 in the annual Vuoden Huiput (Best of the Year) -competition.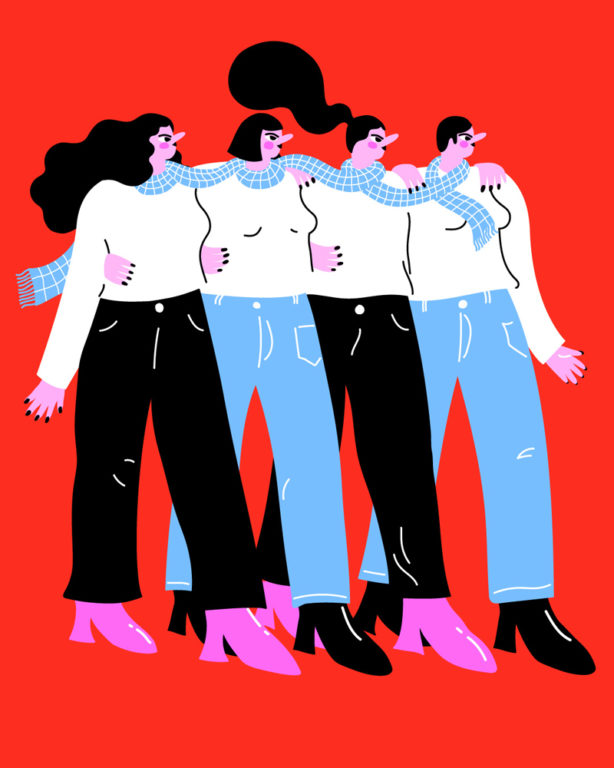 Hi Sanni! Nice to meet you and welcome to Napa! Tell us more about your background, like when did you discover and got interested in illustrating?
Hi there! I'm a 26-year-old illustrator and graphic designer based in Helsinki. I love bright color palettes and my illustrations are all about flower power and distinctive characters with rather big noses. Since I was a little kid drawing and painting were some of the greatest things I knew and in upper secondary school I realized that I wanted to do something creative for a living. It took me a while to find my own path but as soon as I started my graphic design studies, I knew that I was on the right track. Illustration has ever since been one of my main interests and I can't believe that I get to do what I love the most. I did my first illustration commission back when I was an intern in an advertising agency and my task was to illustrate a pattern for a cracker package. Even though the illustrations didn't end up in the final concept I was over the moon just because I got a chance to illustrate for a client.
Tell us about your typical workday as an illustrartor – what is the first task you do in the morning and how does your day usually ends?
At the beginning I go through my daily to do -list and plan the schedule based on that. I also check my emails right away and send my replies to the clients. I might start the day with a brand-new project just for a bit to initiate the thinking process and then jump back into a different project which is already in the making. During the day I sketch, illustrate, brainstorm and email with the clients. On my breaks I like to get some fresh air and pet my two fluffy cats if I'm working from home. At the end of the day I recheck that I'm on schedule and plan my to do-list for the next day based on the weekly tasks.
In what way your illustration style has developed during your career? What are the cornerstones of your artworks, what's your stylistical go-to? 
My illustrations have always been filled with bold colors and rounded simplified forms. Throughout the years I have tried different techniques and at some point, my style was more focused on line drawing. Nowadays my illustrations are more shape based and lines are there just as little details. Joyful color palettes, simplified shapes and distinctive characters have been my go-to for many years!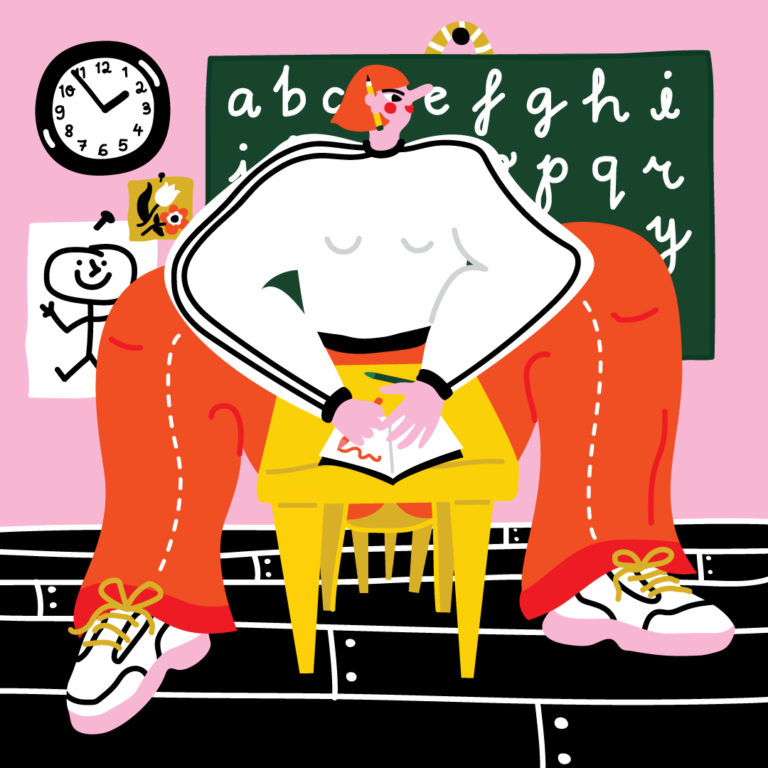 What techinque & equipments do you use? Talk us through your illustrating process.
Vectors are my best friends when I illustrate and therefore, I often illustrate with Adobe Illustrator. When I get a new illustration commission I first dig into the subject and start ideation in my head. The brainstorming continues with sketching, either with a pen and a paper or as digital sketching with a drawing tablet. After the sketch is done, I begin to draw the final illustration on top of the sketch. If the end result will be an animated illustration, I create the movement usually in After Effects. I often try out different color combinations right at the beginning just because I love to plan color palettes!!
What's the best thing in working as an illustartor? And what is the most challenging?
The absolute best thing is that I get to do what I love doing! I'm so happy that I have a chance to tell stories and create worlds with my illustrations and sprinkle some colors to this world. The challenging part is to find enough time for exploration. In order to keep the work interesting, it's important to stay curious and challenge yourself with new things. This is why I like to do lots of personal projects as well but sometimes they get tossed aside because of the tight schedule.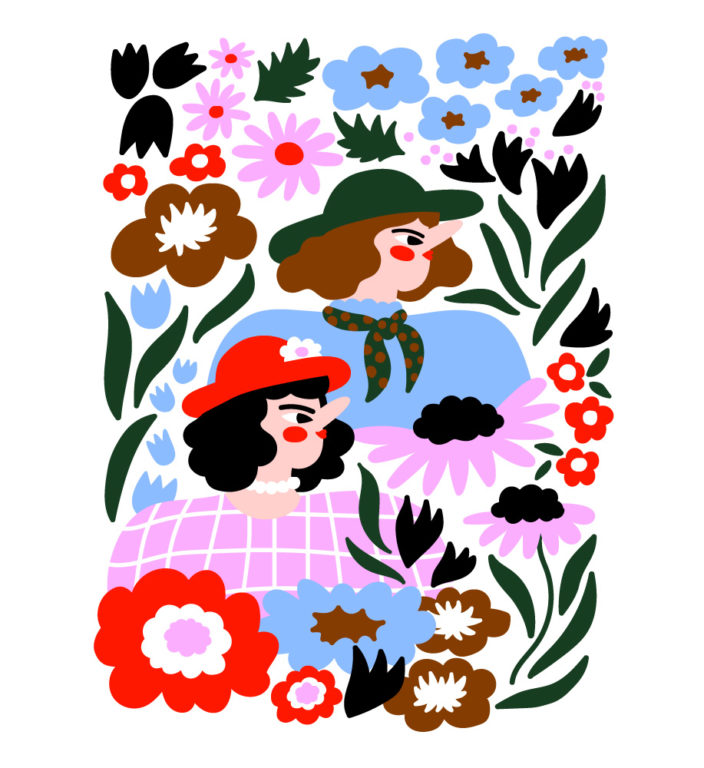 Expose your artistic idols! Who do you follow on Instagram and why?
1. @egle_zvirblyte I love the vibe in Egle's work. The illustrations are filled with boldness and the animal characters with big boots are the coolest! Also, her instagram stories are always on fire with memes, haha.
2. @sannamander I've admired Sanna's work for such a long time and I think she is one of the first illustrators who I started to follow more frequently. Every time I run into Sanna's work I stop to admire them.
3. @annakaroliinavainio Anna-Karoliina's wall rugs are one of my absolute favorites at the moment!
Do you have any hobbies? What do you when you're not drawing??
I always aim to make a lot of time to meet up with my friends and family. Whether it's a coffee date, trip to a local cinema or just a comfy couch chillout with them, I get so much energy from that. My family's summer cottage by the sea is also a very dear place to me and that's where I'm the most relaxed. My favorite activity in there is to go for a long outdoor exploration with our two adventure cats Luna and Kasper.
What has been the most memorable illustration assignment so far? And what would be the dream illustration job??
My most memorable illustration commission so far has probably been the commission to illustrate a visual world for a rather big product family. Later on, I also got a chance to illustrate a tram with the same visual world. It still feels bizarre when I'm walking somewhere in the city and suddenly a tram with my illustrations drive past me! I have many dream projects on my mind.
I would love to design a visual identity for a festival with lots of lively illustrations or see my illustrations as 3D installations in some space, just to name a few. I'm also looking forward to surprising projects that I never even dreamt of doing! !
What is your advice to all beginning talents in the illustration field? And do you have any tips to your new clients who are planning to commission illustrations from you?
My main advice for aspiring illustrators would be to play around with different techniques and ideas without the fear of failure. It took me a long time to find my own path and style (which is still an ongoing project) and I think that it's important to take your time rather than rush towards 'being ready', whatever that even means. You might find your own style from a surprising detour! I also advise to search for inspiration from various sources instead of just scrolling through another illustrators' work and comparing yourself to them.
I would encourage the people who are ordering an illustration for the first time to be adventurous, open minded and enthusiastic. It's also important to say if you have some very specific hopes and dreams about the illustration. Even though illustrators are a bunch of very talented people they don't come with a crystal ball. Smooth communication ensures that the outcome will be super-duper! Above all, I would really recommend making the first order because illustrations are the best.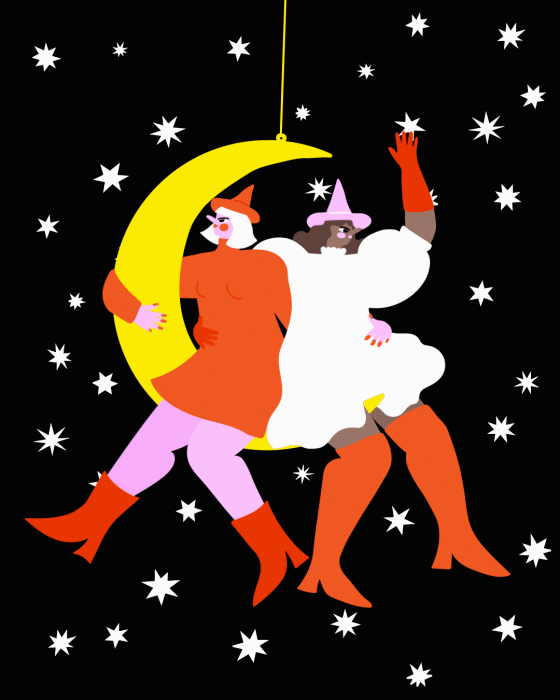 SANNI'S TOP 7:
Album: At the moment I have abandoned all of my favorite albums because Christmas playlists are on repeat non-stop. Christmas is the best!
Book: The darkness and coldness really tempt me to wrap myself as a blanket burrito and dive into the world of Harry Potter, my old favorite.
Superhero: My superheroes are my amazing friends who are all so talented and inspiring in their own unique way.
Movie: Call Me By Your Name is super lovely.
TV-show: At the moment I'm really into this new series called The Undoing. It's very intriguing and I'm totally hooked.
Exhibition: I was inspired by the Magnus Enckell exhibition at Ateneum. The color palettes, beautiful brush strokes and little everyday moments captured in the paintings were my favorite things.
City: New York, most definitely. I lived there back in the fall 2019 and I miss the city immensely.
The perfect pizza toppings: Tough one! I usually go with margarita, but this fall I've been really into a pizza with funnel chanterelle picked straight from the forest, pesto, mozzarella and parmesan. Yummy!
***
Thank you Sanni for the interview! Were so excited to have you as part of Napa Agency's talented star illustrators. Did you fell in love with Sanni Wessman's illustrations? Book her for your project by e-mailing: info(a)napa.agency.fi