Pattern designer and illustrator Oona Mäkelä is the new artist addition to Napa Agency's roster!
The spring has arrived and so the new artist has joined Napa Agency! A brilliant pattern designer and illustrator, Oona Mäkelä, everyone!
Oona Mäkelä (b. 1991) is a Helsinki based illustrator and a print designer. She has completed her master's degree in graphic design at the Royal Academy of Fine Arts Antwerp. Oona is a diverse designer who masters besides illustration, graphic design and print design. In addition she is a ceramics enthusiast and a co-founder & partner in a motion design studio. Oona's versatile line drawings transform from vivid to delicately static expressions make her style highly recognisable. Her work consist of harmonious yet lively colours, playful & strong use of shapes and graphic elements. Oona has a passion for new artistic explorations and developing herself. She loves to take part in different projects and get to know new people – perhaps you would like to discuss your new project with her with a cup of coffee! Her clients include Nanso, Makia, Helsingin Sanomat, Vegemessut and publishing house Kustantamo S&S.
Specialty: Print design, event identities, graphical elements, moving illustration, branding, use of colour

Hi Oona! Tell us more about your background, like when did you discover and got interested in illustrating?
I am an illustrator, graphic designer and print design living in Ruskeasuo, Helsinki. I got interested in illustration when I studied at the Helsinki upper secondary school of visual arts. My first commission was during this time for Helsingin Sanomat column for youth.
What technique do you use in your illustrations?
I use Indian ink, brush and a dip pen a lot. I really like the smell of Indian ink so that might explain it. 😀 Even though I draw on paper I add colors and the composition digitally, as well as the editing. I enjoy the results of combining the organic hand drawing and more flat digital editing.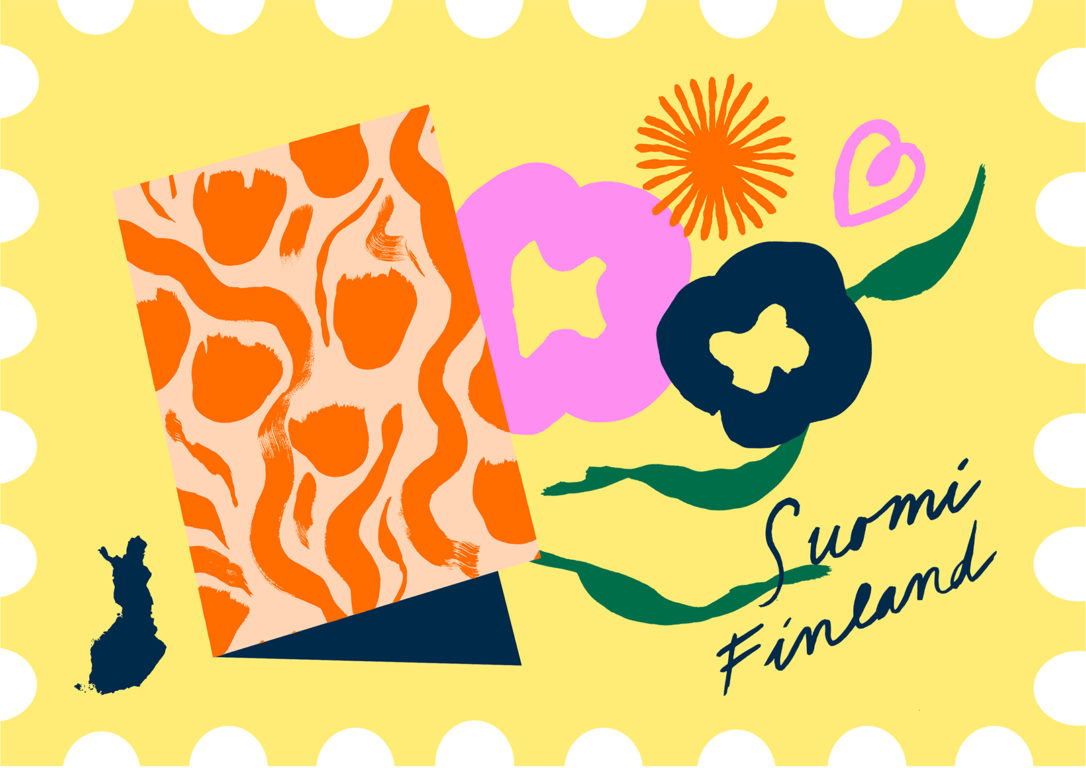 In what way your illustration style has developed during your career? What are the cornerstones of your artworks, what's your stylistical go-to?
I used to paint a lot with aquarelle and I became pretty good at it technically. Maybe that's why I grew a bit tired of it and I started to explore other techniques. I studied printmaking so I was really busy with that and that required a lot of drawing. Maybe that's also why I didn't paint so much anymore.
I used to make really detailed work but nowadays I'm more into more broad expression. I used make all my work by hand and I was such a perfectionist but now I can take things more easy and I use a lot of digital tools. Nevertheless I really appreciate drawing by hand and I want to hold on to this skill. This hand drawn quality is one way to recognise my illustrations, it shows especially in the use of line. I would say that other ones are the colour combinations and different contrasts. My partner said my work is elegant which was nice to hear!
You're also a very skilled pattern designer – how does the creation process goes with the patterns?
Thank you! I make very little sketches for my prints unless it's specifically asked for. I pick ideas around me and also from my head. Mostly I just start drawing on paper with brush dipped into ink. I then scan every potential drawing. Sometimes I have a look at something again the next day and something might be good in a different way than I first thought. I also draw into my sketch book and sometimes these "scrabbles" turn into proper prints.
Then I try colors and compositions in Photoshop. This is how my prints are mostly born.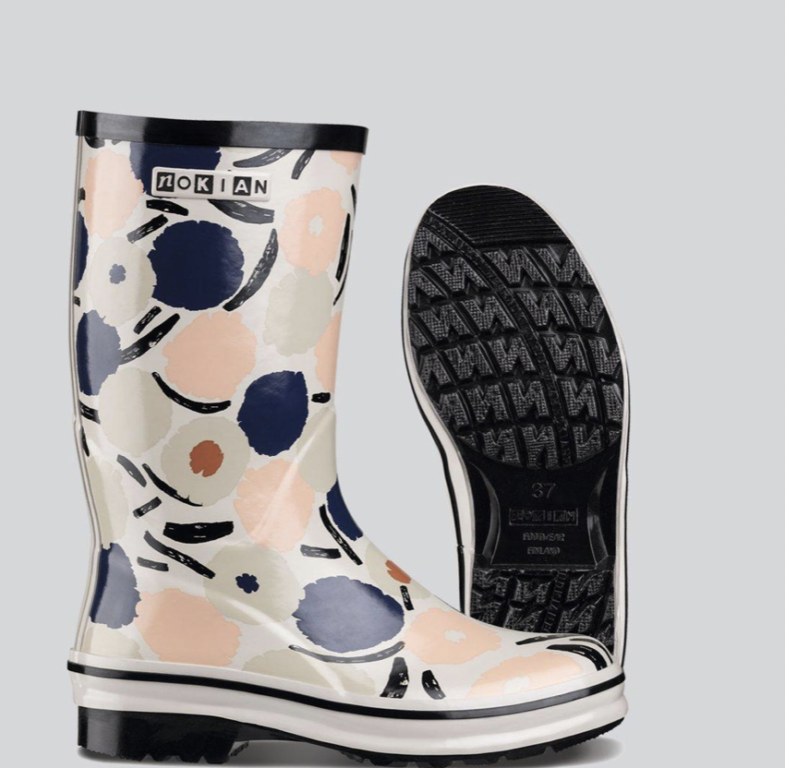 You also do motion graphics, they're also amazing. How does your animation process go?
It depends on the client and what kind of animation it is. First we make a storyboard based on a script. Then based on this I make a few examples of the drawing style. If these are accepted I can move on to drawing the scenes that my partner will then animate. In the animation projects I usually every time use digital drawing techniques, which personally has been an interesting challenge to me.
You used to live and study in Antwerp, Belgium. How was it?
I lived in Antwerp my whole young adulthood so the city has had a great impact on me. It's hard for me to even imagine how I would be like as a person if I had lived my whole life in Finland instead. Living in Belgium really opened up my thinking a lot.
The art scene in Belgium is very different compared to Finland. It was so common people would organise their own events and things were not so official. There were a lot of small interesting expos which enabled many different work getting the spotlight. Often the opening escalated into parties with plenty of wine!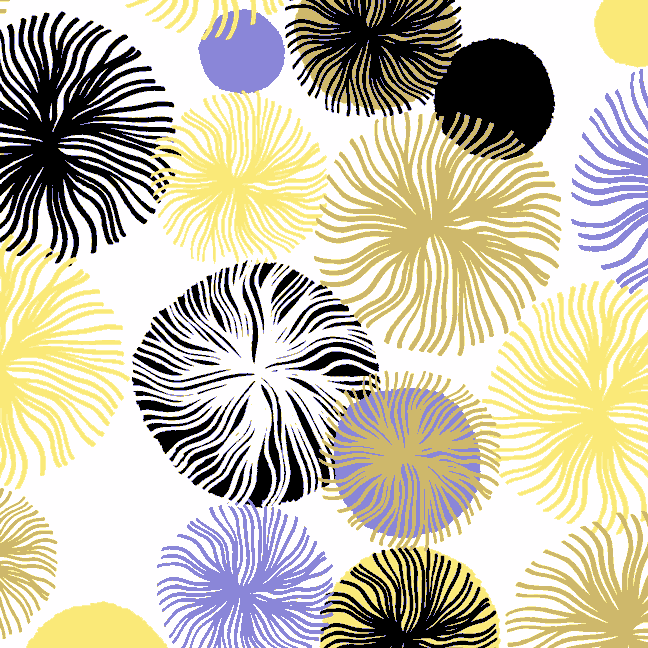 Tell us yout top 3 idols. Who do you admire and why?
1. I really admire the work of Riikka Sormunen. We used to go to the same upper secondary school and since then I have admired her beautiful yet oddly grotesque work. I'm dreaming of one day being able to hang one of her originals on my wall.
2. Another favourite is a Belgian fashion designer Christian Wijnants. I really like the prints of the collections.
3. The third one is Armi Teva and her lovely and clever ceramics.
What do you do besides illustrating? Tell us some of your hobbies!
In my free time I'm busy with ceramics and I visit a lot of museums and galleries. Walks in the woods are also lovely. I try to see my friends often enough but now during pandemic I in fact have laid too much at home watching series.  We'll soon have a dog though and I hope we'll do a lot of fun things together!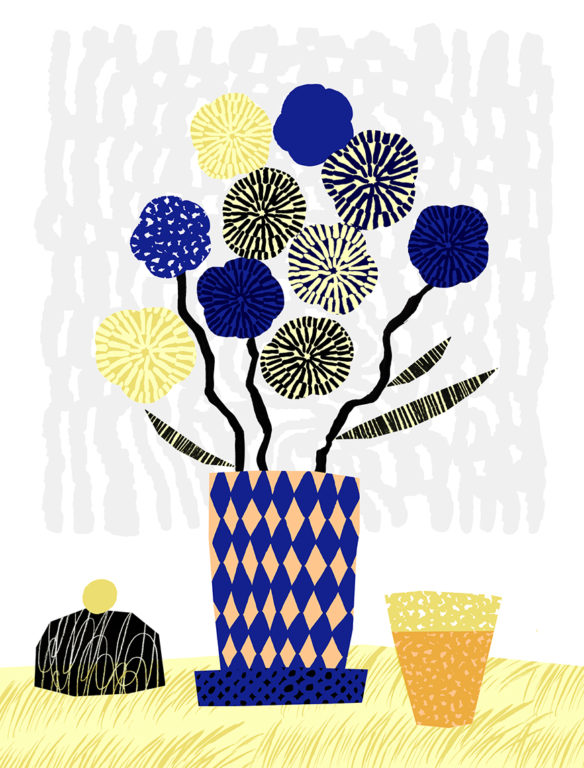 What has been the most memorable illustration assignment so far? And what would be the dream illustration job?
The most remarkable illustration commission was probably the first one I ever had for Helsingin Sanomat. It was amazing to see my work published in a real newspaper.  The illustration job of my dreams would be a big project that would have many parts with different illustrations also involving animation. Would be great to be part of a project that would have a good purpose or that would go hand in hand with my own field of interest. And of course in cooperation with great people. 🙂
What is your advice to all beginning talents in the illustration field? And do you have any tips to your new clients who are planning to commission illustrations from you?
For the illustrators who are just starting, my tip would be to draw a lot and to be persistent! For my future clients I would ask to trust the illustrator's vision.
Thank you for the interview and welcome to the roster. We're happy to have you in Napa!
To see Oona's portfolio, pelase visit here: www.napa-agency.fi/kuvittaja/oona-makela/